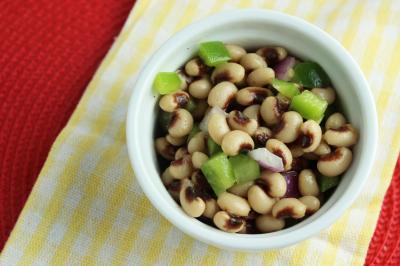 May's five ingredients or less recipe is a super versatile side dish that you will love! Enjoy it with your favorite sandwich, serve it at a BBQ, and bring it from home as part of your lunch. We love how the different flavors mix together for a savory dish that is perfect for Spring.
Black-Eyed Peas Salad

Servings per recipe: 8

Ingredients:
- 2 cans (15 ounces each) black-eyed peas, drained and rinsed, or 1 pound dry black-eyed peas, cooked
- 1/2 cup red onion, chopped
- 1/2 cup green bell peppers, chopped
- 1/2 cup celery, chopped
- 1/4 cup nonfat Italian dressing

Instructions:
1. In a medium-sized bowl, combine all ingredients and mix well.
2. Cover bowl and chill salad before serving.

Nutrition Facts (per serving): 90 calories, 0.5 g fat, 390 mg sodium, 16 g total carbohydrate, 4 g fiber, 5 g protein

COOKING TIP:
- For the dry black-eyed peas, soak overnight with enough water to cover the peas. Drain and rinse. Cook in 6 cups of chicken broth and bring to a boil. Cover and simmer for 50 minutes or until tender.
May 9, 2017