Kids can help in the kitchen at almost any age. It teaches them new skills and motivates them to try new foods they helped create! Here are some ideas for age-appropriate tasks that your kids can help out with during cooking time. 
Note: All kids develop at their own pace and these tasks are only suggestions. Adults should be present for safety.
Image
0-18 months
Kids Observing Adults. This is a great age to get kids curious about what you do in the kitchen. Let them watch you cook and talk to them about what you are doing to keep them interested. 
Image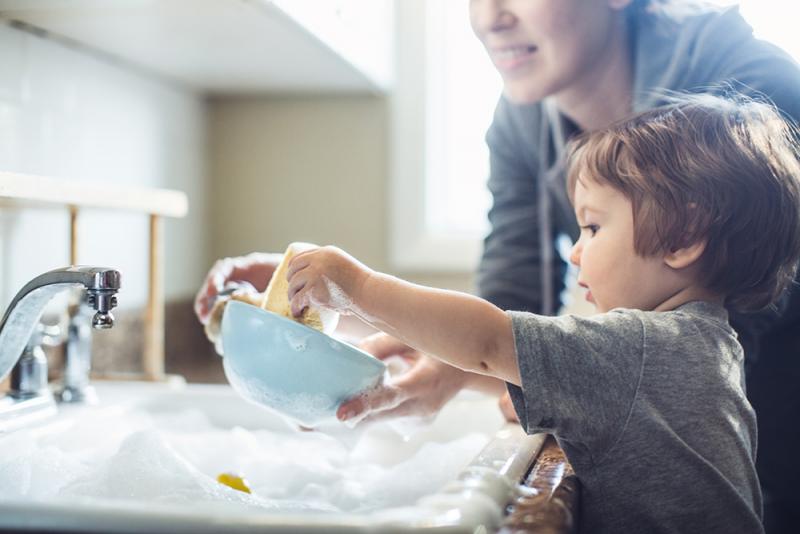 18 months - three years
Kids Get More Involved. Kids can get a little more hands on with simple tasks. They especially love the ones that allow them to get a little messy!
Pouring measured ingredients into bowl
Stirring ingredients together
Washing produce 
Mashing ingredients
Brushing food with oil using pastry brush
Kneading dough
Whisking ingredients
Helping put dirty dishes into sink or dishwasher
Image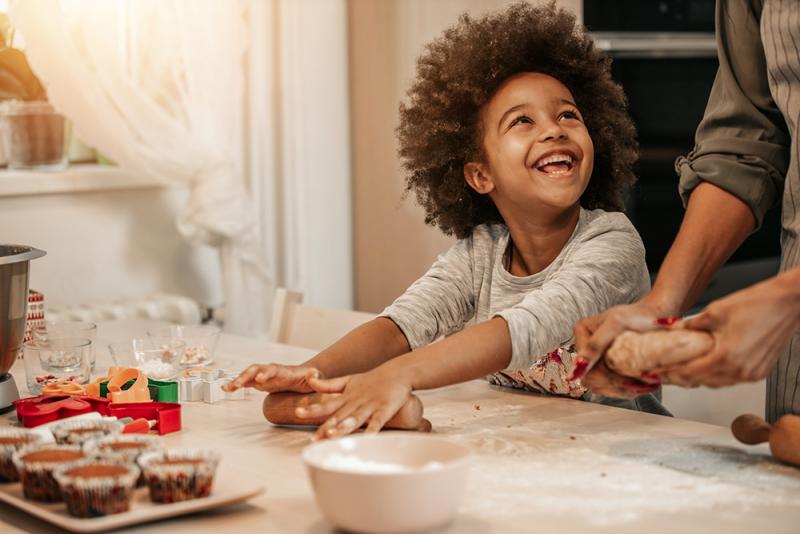 4-5 years old
Kids Learn New Skills. Kids at this age want to help more and try more tasks independently. As long as they are using safe tools, let them try new cooking skills, even if the end product isn't always perfect. 
Using plastic knife to cut softer foods (bananas, bread, etc)
Helping set the table
Rolling out doughs
Opening cans with can opener
Helping package up leftovers
Wiping off counters and tables
Measuring and leveling dry ingredients
Image
6-9 years old
Kids Try New Tools. Kids at this age can be trusted with more tools after they have mastered the skill with a little practice. Adult supervision is especially important as kids start working with more kitchen tools. 
Putting away groceries
Loading and unloading the dishwasher or washing and drying dishes by hand
Putting food pieces on skewer
Grating food with box grater (with supervision)
Measuring liquid ingredients
Using a variety of kitchen tools such as: peeler, hand mixer, garlic press (all with supervision)
Assisting an adult at the stove
Cracking an egg
Image
10 and up
Kids Get Confident. Kids can work more independently in the kitchen once they master some of the basic skills listed above.