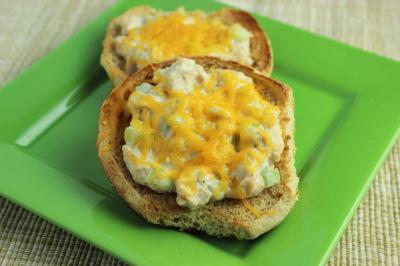 Our Salmon Melt recipe is perfect for those busy nights where you only have a few minutes to get dinner on the table. And with only five ingredients (not including pepper), you can be sure that it's affordable, too.
Salmon Melts
Servings: 4

Ingredients:
- 1 can (6 ounces) pink salmon, drained
- 1/4 cup celery, chopped
- 1/4 cup low-fat or light mayonnaise
- 1/4 tsp. black pepper
- 4 whole wheat hamburger buns
- 1 cup low-fat shredded cheese

Instructions:
1. Combine salmon, celery, mayonnaise, and black pepper in a medium bowl. Mix well with a fork.
2. Preheat broiler in oven on low. Place buns, sliced sides facing down, on a broiler pan and broil until lightly browned and crispy. Remove pan from oven.
3. Turn buns over and spread 2-3 tablespoons of salmon mixture onto each half.
4. Top each bun with 2 tablespoons shredded cheese.
5. Return pan to oven and broil until cheese melts on top, about 1-2 minutes. Serve immediately.

Nutrition Facts (per serving/2 halves topped with salmon mixture and cheese): 280 calories, 10 g fat, 650 mg sodium, 24 g total carbohydrate, 1 g fiber, 22 g protein

*Note: This version was created for our 2017 calendar. To see the version that contains more ingredients, visit our website here.
March 14, 2017