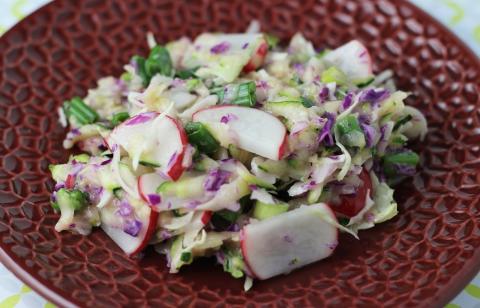 Grilling season is here! What's your go-to side dish?
If your answer is coleslaw, then you're in for a treat! This coleslaw recipe starts with the standard cabbage, and then expands into other seasonal vegetables for extra flavor and crunch.
The star is really the red radish, which you can find growing in Illinois in June! While there are many types of radishes, the one we tend to be most familiar with is the standard red summer radish. The globes (red portion) are typically eaten raw, and you can also eat the greens. A good source of potassium, vitamin C, folate, and fiber, radishes are a tasty, crunchy addition to your meal.
Selecting Radishes:
Radishes tend to taste best when they are small and tender. Avoid oversized radishes, as they tend to be tough and woody.
Storing Radishes:
Remove tops with leaves and store separately from globes. Greens can be stored for 2-3 days in the refrigerator, as they tend to lose moisture quickly.
Store globes for 5-7 days in plastic bags in the refrigerator.
Preparing Radishes:
Wash globes using a stiff vegetable brush under cold running water. Pat dry with clean towels. Cut away the root and top sections before enjoying raw or in a recipe.
Colorful Coleslaw (Serves 6)
Ingredients:
2 cups zucchini, shredded (around 2 squash)
1 cup green cabbage, shredded
1 cup red cabbage, shredded
2 green onions, sliced
½ cup radishes, thinly sliced
1/3 cup low-fat mayonnaise
1/8 tsp. black pepper
Instructions:
Mix together zucchini, cabbages, onions, and radishes in a large bowl.
In a smaller separate bowl, mix together mayonnaise and pepper.
Toss vegetables with dressing.
Chill in refrigerator at least 1 hour before serving.
Nutrition Facts (per serving): 50 calories, 3 g fat, 125 mg sodium, 5 g total carbohydrates, 1 g fiber
Save the Recipe for Later: Pinterest
Resource: University of Illinois Extension, "Watch Your Garden Grow: Radish"
Source: Beth Peralta, Illinois Nutrition Education Programs
Contact: cavaller@illinois.edu
Note: this article originally appeared from University of Illinois Extension in the News-Gazette in June 2016.
June 22, 2018