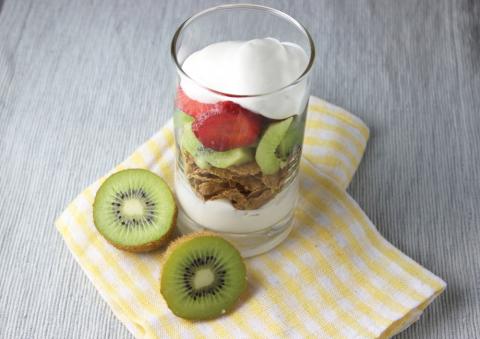 Cool off in the heat of summer with our July featured recipe, Kiwi Strawberry Parfait! You can make the recipe your own with different fruit and yogurt flavors, too.
Kiwi Strawberry Parfait
Serves: 2
Ingredients:
2 kiwifruit, peeled and sliced
1 cup fresh (or thawed from frozen) strawberries, sliced
1 cup plain or vanilla yogurt
1/2 cup corn or bran flakes cereal
Preparation:
Layer kiwifruit, strawberries, yogurt, and cereal in 10-12 ounce clear glass or plastic glasses.
Nutrition Facts (per serving): 210 calories, 1 g fat, 100 mg sodium, 41 g total carbohydrates, 4 g fiber, 11 g protein
July 2, 2018