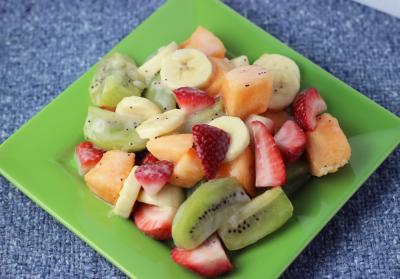 Strawberries! Blueberries! Blackberries! (and more)
Berries may be available in many stores all year long, but are seasonal to Illinois in the summer months. What does that mean for you? Foods that are in-season may cost less and taste better!
On Let's Eat For Health, Illinois!, we've got many berry recipes that taste great for you to try this summer. One of our favorites is the Melon Berry Banana Fruit Salad. Try it and then tell us what you think on our Facebook page!
Melon Berry Banana Fruit Salad
Serves: 4
Ingredients:
- 1/2 cantaloupe, cut into cubes or balls
- 1 banana, sliced
- 1 cup strawberries, sliced
- 1 kiwi fruit, peeled and sliced
- 1/4 cup low-calorie salad dressing (we used Poppy Seed Dressing)
- 2 Tbsp. fruit juice
- 1/4 tsp. dried mint (optional)
Instructions:
1. Combine all ingredients in a large bowl.
2. Blend salad dressing with fruit juice and mint.
3. Gently stir dressing into fruit.
4. Refrigerate until served.
June 23, 2015