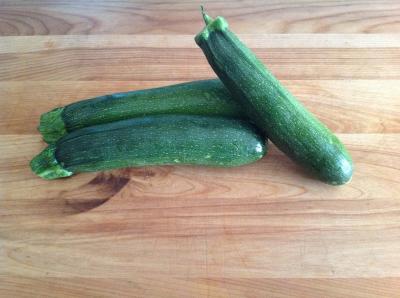 Though zucchini is officially classified as a summer squash, it is easy to find at the store all year long. Zucchini is a versatile vegetable and tastes great sautéed, baked into a casserole, added to soups, dipped raw into dip or added to top of a salad. And the extra bonus: zucchini's flowers (aka squash blossoms) are also edible! Our recipe below is a fun way to feature this vegetable and is a great one to get the kids involved in the kitchen.
Zucchini Nutrition: Zucchini is fat and sodium (salt) free, low in calories, and high in vitamin C.
Zucchini Selection: Choose zucchini squash that is green and shiny without cuts, holes, or bruising.
Zucchini Storage: Store fresh zucchini in the refrigerator in a plastic bag for up to three days. Wait to wash zucchini until right before using, as washing it can lead to the squash deteriorating more rapidly.
Zucchini Preparation: Wash zucchini under cool water, scrubbing gently with a towel or fingers to remove any dirt. Trim off ends of the squash before cutting to eat or use in a recipe.
Easy Veggie Pizza
Serves 4
Ingredients:
- 4 English muffins, split into halves
- ½ cup pizza sauce
- 1 cup mushrooms, thinly sliced
- 1 small zucchini, thinly sliced
- 1 medium green or red bell pepper, diced
- 1 cup mozzarella cheese, shredded
- 2 Tbsp. Parmesan cheese, grated
- ½ tsp. dried oregano
- ½ tsp. dried basil
Instructions:
Preheat oven to 400 degrees F.
Place split English muffins, face up, onto a baking sheet.
Spread 1 Tbsp. pizza sauce in the center of each English muffin half.
Arrange vegetables (mushrooms, zucchini, and pepper) over sauce on English muffins.
Combine mozzarella cheese, Parmesan cheese, and dried herbs in a small bowl.
Sprinkle cheese and herb mixture over English muffin halves.
Bake 15 minutes, until cheese has melted and muffins are crisp.
Let cool for 1-2 minutes before serving.
Link to Recipe Online: http://go.illinois.edu/easy_veggie_pizza
March 24, 2017