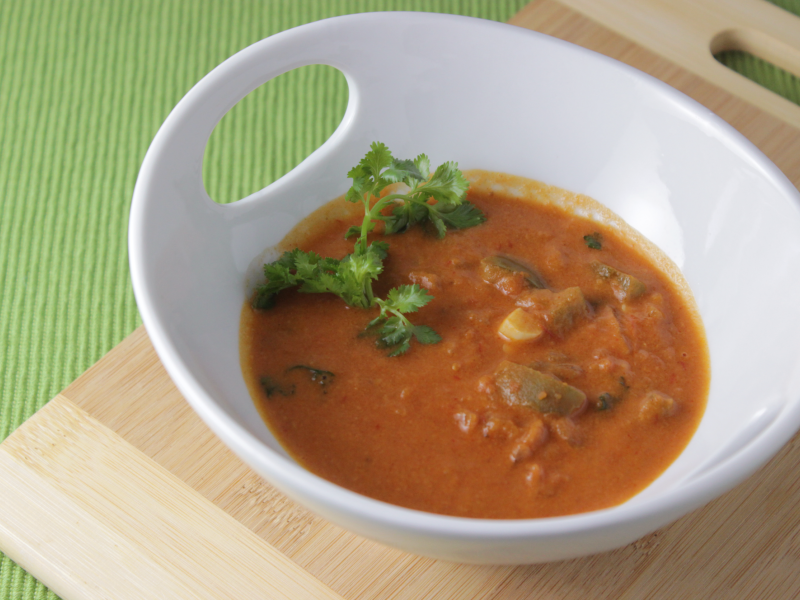 Nutrition Facts
Total Carbohydrates : 20 g
Ingredients
1 Tablespoon extra-virgin olive oil
2 medium onions, diced
2 large red or green bell peppers, chopped
6 garlic cloves, minced
1 can (28 ounces) crushed tomatoes
4 cups low-sodium vegetable broth
½ teaspoon black pepper
½ teaspoon chili powder
2/3 cup extra crunchy peanut butter
1 Tablespoon fresh cilantro, chopped
Salt, to taste
Preparation
Wash hands with soap and water.
Gently rub fresh vegetables under cool running water.
Heat olive oil in a large pot over medium heat. Cook onions and bell peppers until lightly browned and tender, adding garlic at the end to prevent burning.
Stir in tomatoes and their liquid, vegetable broth, pepper, and chili powder. Reduce heat to low, uncover, and simmer for 15 minutes.
Stir in peanut butter and cilantro until well blended. Taste and adjust seasoning, adding salt if needed.
Note
Recommend 1 teaspoon of salt and replace chili powder with cayenne powder if you want a slightly spicier soup.
Recipe from Oldways, www.oldwayspt.org. Original recipe can be found at this link for African Peanut Soup.