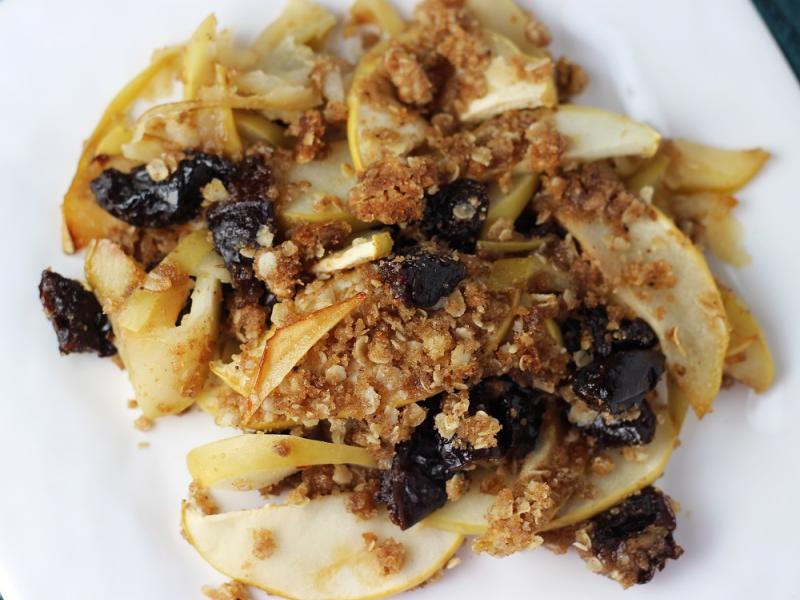 Nutrition Facts
Total Carbohydrates : 21 g
Ingredients
1/4 cup instant oatmeal
1/4 cup all-purpose flour
1/3 cup firmly packed light brown sugar
1/2 teaspoon ground cinnamon
1/4 teaspoon ground nutmeg
1 1/2 tablespoon butter, melted
2 small apples*
2 small plums or 1/4 cup dried plums, chopped
Preparation
Preheat oven to 375 degrees F.
Spray a 8x8 inch baking dish with non-stick cooking spray.
Wash hands with soap and water.
In a bowl, combine oatmeal, flour, brown sugar, cinnamon, nutmeg, and butter.
Gently rub fruit under cool running water.
Core and thinly slice apples.
Core and thinly slice fresh plums. If using dried plums, chop.
Spread apple and plum slices/pieces evenly over surface of baking dish.
Sprinkle the oatmeal and flour mixture over the fruit.
Bake for 30 minutes or until fruit is tender and topping is golden brown.
Note
*For best results use a baking variety of apple like McIntosh, Granny Smith, Jonagold, or Braeburn