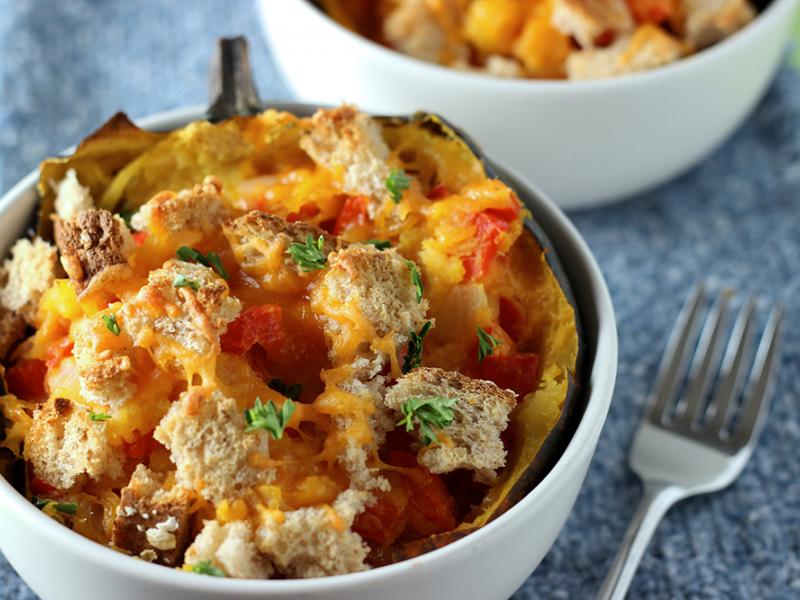 Nutrition Facts
Total Carbohydrates : 14 g
Ingredients
1 medium to large acorn squash
1 medium onion, chopped
1 green or red pepper, chopped
1 tablespoon butter, unsalted
1/2 lb. cheddar cheese, grated
2 slices fresh bread
Preparation
Preheat oven to 400 degrees Fahrenheit.
Wash hands with soap and water.
Gently rub produce under cool running water.
Place squash on a cookie sheet in the oven. Bake for one hour, or until a fork pierces the skin easily.
Reduce oven heat to 350 degrees Fahrenheit.
Cool cooked squash for about 10 minutes or until it cooled enough to handle.
Cut the squash in half with a knife and scoop out the seeds with a spoon. Throw the seeds away.
Scoop out all of the squash into a large mixing bowl, leaving the shell as intact as possible on the cookie sheet.
Heat a large skillet on the stovetop with butter, add the chopped onion and pepper and cook until tender.
Add cooked onion and pepper to the squash in the mixing bowl.
Mix in the grated cheddar cheese, reserving a handful to mix with the bread crumbs.
Spoon the mixture back into the squash shells.
Tear bread into small pieces and combine with the last of the cheese.
Sprinkle bread and cheese mixture on top of the squash mixture inside the shells.
Bake at 350 degrees Fahrenheit for 20-25 minutes.
Note
- To select the best acorn squash, look for one that is firm without any cuts or bruises. - To decrease fat and increase fiber, look for reduced-fat cheese and 100% whole wheat bread.