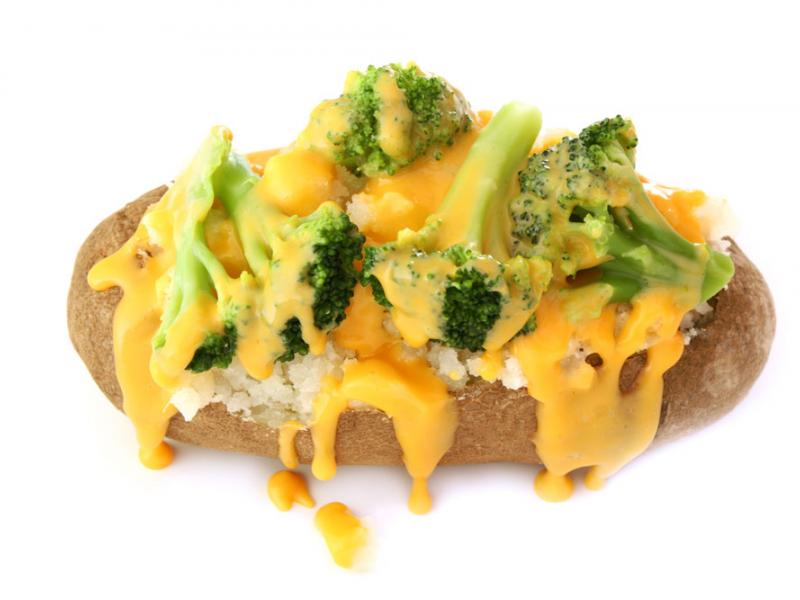 Nutrition Facts
Total carbohydrate : 46 g
Ingredients
4 medium baking potatoes
1 cup fresh or frozen and thawed broccoli, chopped
½ cup onion, chopped
½ cup carrots, shredded
1 Tablespoon butter
1 Tablespoon flour
¾ cup nonfat milk
½ cup cheddar cheese, shredded
Preparation
Wash hands with soap and water.
Gently rub produce under cold running water before preparing ingredients.
Preheat oven to 350 degrees F.
Prick potato skins with a fork in several places. Wrap with aluminum foil.
Bake wrapped potatoes for 30-60 minutes, until soft inside. Check doneness by piercing potato with knife.
Place fresh broccoli, onion, and carrots in a microwave safe dish. Add 2 Tablespoons of water. Cover and heat in microwave until tender, about 5 minutes. Drain and set aside.
Add butter to a saucepan and melt. Stir in flour. Slowly add milk while stirring continuously. Continue stirring a few minutes while sauce thickens.
Add shredded cheese to sauce and stir until melted. Add cooked vegetables to cheese sauce.
Serve sauce on top of hot, cooked potatoes.