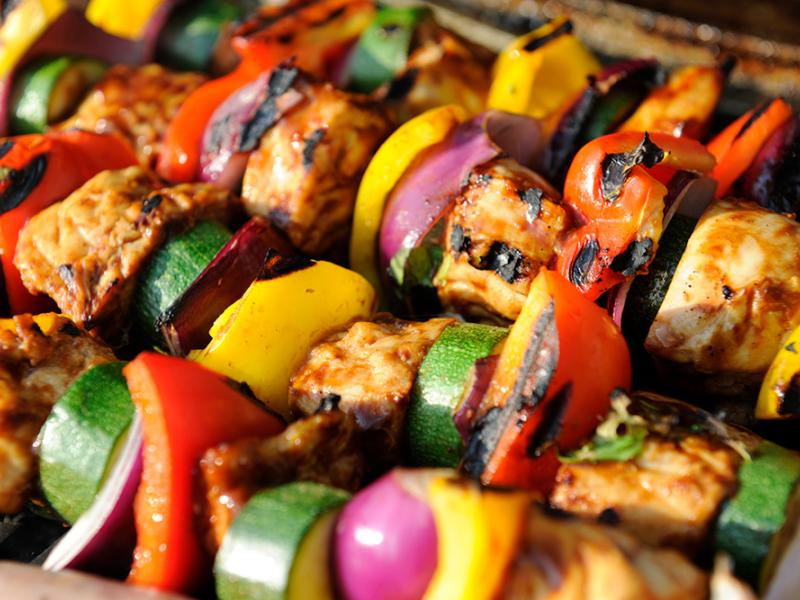 Nutrition Facts
Total Carbohydrates : 11 g
Ingredients
2 tablespoon vegetable oil
2 tablespoon lemon juice
1 teaspoon minced garlic (or 1/2 tsp garlic powder)
1/4 teaspoon ground black pepper
1 lb. boneless, skinless chicken breast, cut into 1-inch cubes
1 large fresh red onion, cut into 1-inch pieces
2 medium bell pepper (any color), cut into 1-inch pieces
2 medium fresh zucchini, cut into 1-inch slices
2 medium fresh yellow summer squash, cut into 1-inch slices
1 , 8-oz package fresh whole mushrooms, cut in half or keep whole
Preparation
Wash hands with soap and water.
In a medium container with a lid, combine vegetable oil, lemon juice, garlic, and black pepper.
Add chicken pieces and toss to coat.
Cover container with lid, and refrigerate for at least 1 hour.
Wash hands with soap and water.
Gently rub vegetables (red onion through mushrooms) under cold running water and cut into sizes indicated.
Pre-heat grill to medium heat.
Prepare six wood or metal kebab skewers according to directions on package.
Thread alternating pieces of chicken with vegetables, in any combination desired.
Add assembled kebabs to grill. Cook on one side for 5-10 minutes. Turn and cook for another 5 minutes. Chicken is cooked and safe to eat when it reaches 165 degrees F with a meat thermometer.
Note
Use one plate for the raw, uncooked kabobs. Once kebabs are cooked, use a new, clean plate to transport them to the kitchen. Recipe makes 6 kebabs. Recipe contributed by Caitlin Huth, University of Illinois Extension Nutrition and Wellness Educator.