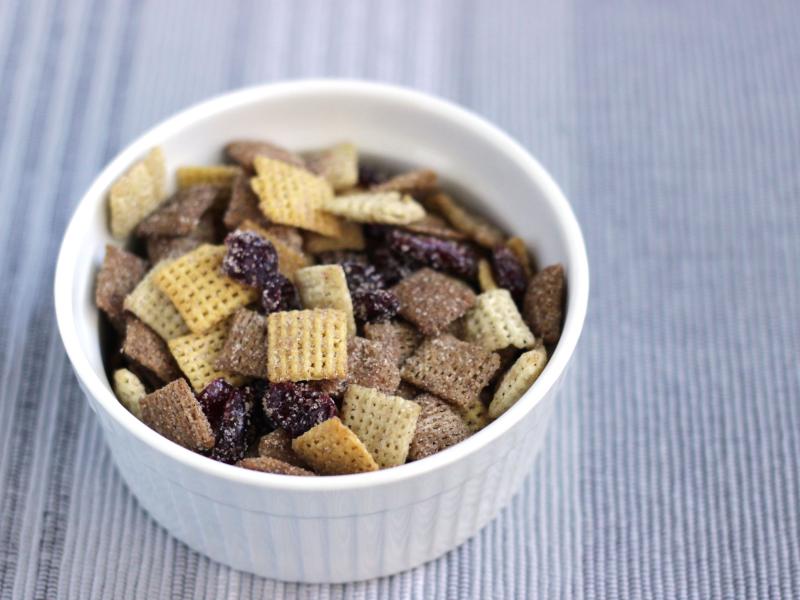 Servings per Recipe
10.00
Nutrition Facts
Total Carbohydrates : 24 g
Ingredients
1/8 cup (2 Tablespoons) sugar
2 teaspoons ground cinnamon
¼ cup margarine, tub-style
1 ½ cups square, whole-grain corn cereal
1 ½ cups square, whole-grain rice cereal
1 ½ cups square, whole-grain wheat cereal
½ cup raisins or dried cranberries
Preparation
Wash hands with soap and water.
Mix sugar and cinnamon in a small bowl and set aside.
Place margarine in large microwave-safe bowl. Microwave on high uncovered for 40 seconds or until melted.
Stir in corn, rice, and wheat cereals until coated evenly with margarine. Microwave for one minute and stir. Microwave for an additional minute.
Sprinkle half of the cinnamon sugar mix onto cereal and stir. Sprinkle with remaining sugar and stir.
Microwave for one additional minute.
Stir in raisins or dried cranberries. Spread mixture onto paper towels to cool.
Note
Adapted from recipe Cinnamon-Raisin Breakfast Mix from MyPlate.gov. This recipe used raisins when doing the nutrition analysis.