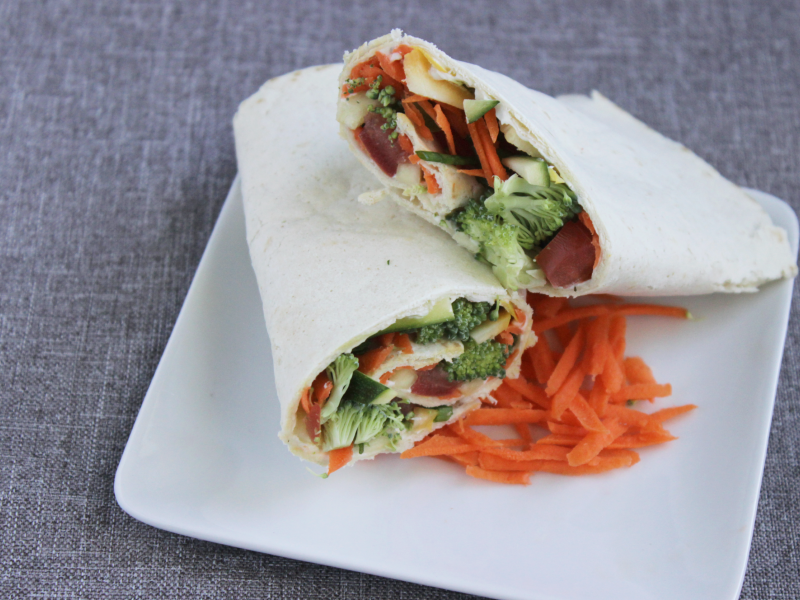 Serving Size
1/2 tortilla filled with vegetables
Nutrition Facts
Total Carbohydrates : 15 g
Ingredients
½ Tablespoon ranch seasoning mix
4 Tablespoons reduced-fat cream cheese (Neufchatel cheese)
¼ cup broccoli, diced
2, 8" flour tortillas
¼ cup carrot, peeled and grated
¼ cup zucchini, cut into small strips
¼ cup yellow summer squash, cut into small strips
½ tomato, diced
1/8 cup bell pepper, diced
2 Tablespoons chives or green onion, finely chopped
Preparation
Wash hands with soap and water.
Gently rub vegetables under cool running water.
Stir ranch seasoning and cream cheese in a small bowl. Set aside.
Place broccoli in a small microwave-safe bowl with 1 Tablespoon water. Microwave for one minute. Drain water from steamed broccoli.
Spread cream cheese mixture onto flour tortillas, leaving about one inch from edge without spread.
Sprinkle vegetables on top of cream cheese. Roll tortillas tightly and chill for 1-2 hours.
Slice wrap in half and serve.
Note
Adapted from recipe Crunchy Vegetable Wraps from MyPlate.gov