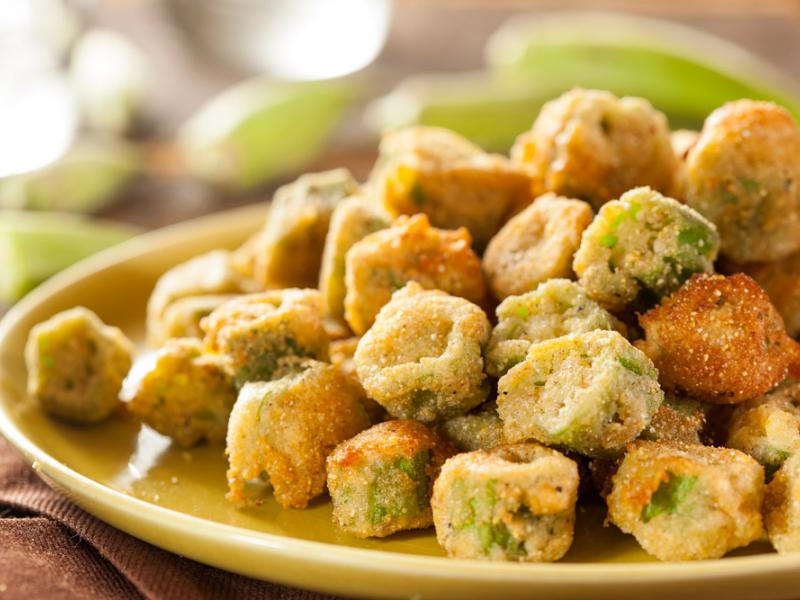 Nutrition Facts
Total carbohydrates : 36 g
Ingredients
1 tablespoon extra-virgin olive oil
½ lb of okra, fresh or frozen, cut into bite-sized pieces
1 cup cornmeal
½ teaspoon smoked sweet paprika. Use regular paprika or chili powder if you do not have smoked paprika.
½ teaspoon garlic powder or garlic granules
½ teaspoon sea salt
Preparation
Preheat your oven to 400°F. Rub a light coating of olive oil on a baking sheet.
Thaw the okra if using frozen. This recipe calls for half of a 16 oz bag of frozen okra; pour half of the okra into a sealable plastic bag and thaw in warm water (so you won't thaw the whole bag).
While the okra thaws, mix the cornmeal, paprika, garlic powder, and sea salt in a bowl. Stir well, to evenly spread the ingredients.
Once the okra is thawed, take each pod and roll it through the cornmeal and spices, covering all sides. Place all covered pods on the baking sheet.
Bake the okra at 400°F for 25 minutes or until the bites are golden brown.
Serve as a snack or the perfect side to a plate of other veggies, potatoes, or black-eyed peas. 
Note
Recipe courtesy of Oldways and shared with permission. Original published here: https://oldwayspt.org/recipes/cornmeal-crusted-okra-bites