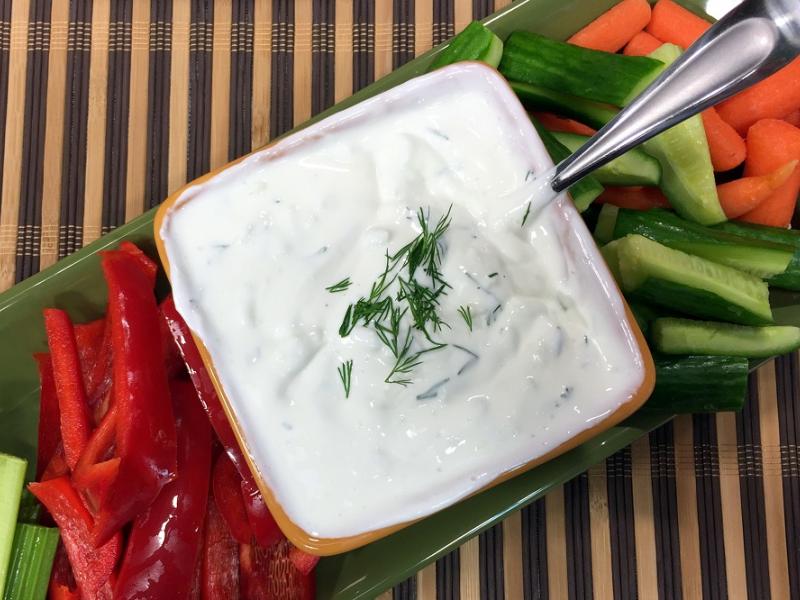 Nutrition Facts
Total Carbohydrates : 8 g
Ingredients
2 cucumbers
2 cup plain Greek yogurt, low fat
1/4 cup sour cream
1 lemon, squeezed to make 1 Tbsp. juice
1 tablespoon fresh dill, chopped, or 1 teaspoon dried dill
1/4 teaspoon garlic, minced, or 1/8 teaspoon garlic powder
1/8 teaspoon salt
1/8 teaspoon pepper
1 cup baby carrots
1 red bell pepper, cut into strips
3 stalks celery, cut into sticks
Preparation
Wash hands with soap and water.
Gently rub produce under cool running water.
Peel 1 cucumber. Cut in half, length-wise, and remove seeds. Grate cucumber and place on a paper towel. Squeeze out excess liquid.
To make dip, mix grated cucumber, plain yogurt, sour cream, lemon juice, dill, garlic, salt, and pepper together in a medium-sized bowl. Note: Dip tastes best if sits in refrigerator overnight.
Slice remaining cucumber for dipping.
Arrange sliced cucumbers, baby carrots, red pepper strips, and celery sticks on a plate.
Serve dip with vegetables.
Note
Adapted from Cucumber Yogurt Dip, from What's Cooking? USDA Mixing Bowl, found at: https://whatscooking.fns.usda.gov/recipes/supplemental-nutrition-assistance-program-snap/cucumber-yogurt-dip