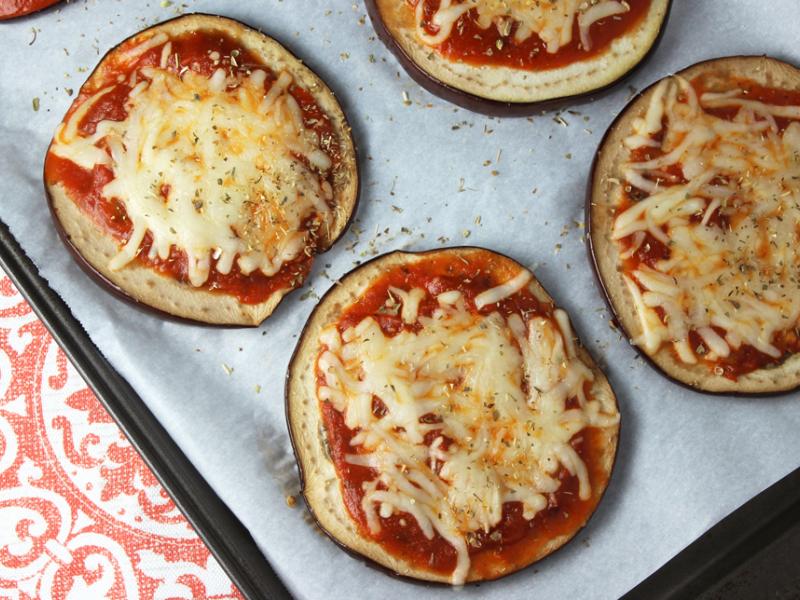 Nutrition Facts
Total Carbohydrates : 11 g
Ingredients
2 medium eggplants (makes 16 slices)
1/2 teaspoon salt
1/4 teaspoon black pepper
1 cup traditional or tomato mushroom jarred pasta sauce
1 cup mozzarella cheese, shredded
Preparation
Preheat oven to 350 degrees F.
Spray baking sheet with nonstick cooking spray.
Wash hands with soap and water.
Gently rub eggplant under cold running water.
Slice eggplant into 1/2-inch thick circular slices. Place eggplant on a plate or cutting board and sprinkle with salt.
Let sit with salt on top for 20-25 minutes. Use a paper towel to remove any excess liquid and salt on the eggplant slices.
Spray both sides of prepared eggplant slices with nonstick cooking spray and sprinkle with pepper.
Place eggplant slices on baking sheet and bake for five minutes. Remove from oven and flip eggplant slices. Bake for an additional 3 to 5 minutes or until eggplant is tender.
Top each eggplant slice with 1 tablespoon pasta sauce. Sprinkle each slice with 1 tablespoon mozzarella cheese.
Bake an additional 3 to 4 minutes or until cheese is melted.
Note
- Optional: Top with fresh or dried basil or oregano before final baking step. - Note: Recipe can also be made with zucchini squash. Adjust amount of sauce and cheese accordingly depending on size of squash. - Recipe makes approximately 16 slices, but this may vary depending on size of eggplant.