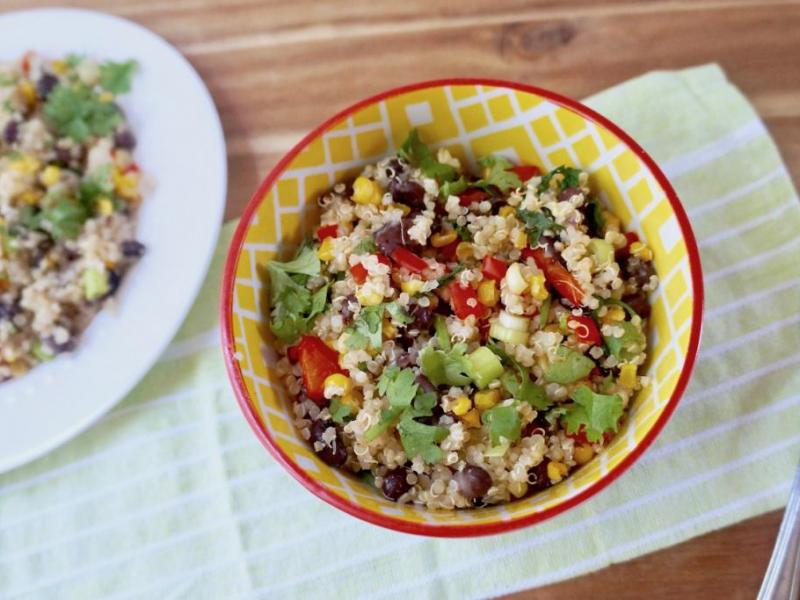 Nutrition Facts
Total carbohydrates : 37 g
Ingredients
1 cup quinoa
2 cups vegetable broth
2 ears corn, roasted and cut off cob
1 red bell pepper, roasted and chopped
1 (15-ounce) can black beans, rinsed and drained
3 scallions or green onions, sliced
½ cup chopped cilantro
Juice from three limes (about 5-6 tablespoons)
2 tablespoons extra-virgin olive oil
1 teaspoon ground cumin
½ teaspoon salt
¼ teaspoon fresh ground black pepper
⅛ teaspoon cayenne pepper
Preparation
Put quinoa and broth in a medium saucepan. Bring to a boil, cover and simmer for 15 minutes or until tender.
In a large bowl, mix together quinoa, corn, pepper, beans, scallions and cilantro.
In a small bowl, whisk together lime juice, olive oil and seasonings. Pour over quinoa mixture.  Cover and chill for at least 30 minutes to let flavors set.
Note
Recipe and photo courtesy of Oldways and shared with permission. Original published here: https://oldwayspt.org/recipes/fiesta-quinoa-salad