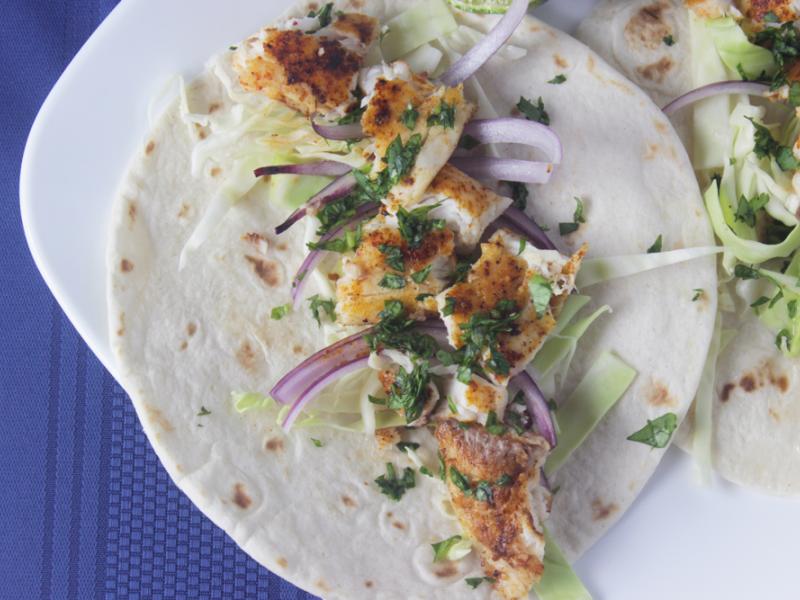 Nutrition Facts
Total Carbohydrates : 26 g
Ingredients
4 white fish fillets, such as tilapia or flounder (if frozen, thaw according to package directions)
1/2 tablespoon chili powder
1/2 tablespoon cumin powder
8 , 6-inch corn tortillas (or: flour tortillas)
1 cup green cabbage, chopped or shredded
1 small red onion, cut in half and sliced thinly
2 tablespoon lime juice
1 tablespoon cilantro, minced
Preparation
Wash hands with soap and water.
Heat large skillet or grill pan over medium heat.
Pat fish fillets dry with clean towel.
Rub chili powder and cumin onto both sides of fillets.
Spray nonstick cooking spray onto heated skillet or grill pan. Add fillets.
Cook 4-5 minutes and flip fish over. Cook for additional 4-5 minutes. Fish is ready when internal temperature reaches 145 degrees F and flakes with a fork.
Cut cooked fish into bite-sized pieces. Set aside.
Wash produce, then spread green cabbage and red onion onto tortillas. Add cooked fish and top with lime juice and cilantro.
Note
One serving is two tacos. Optional toppings include salsa or guacamole.