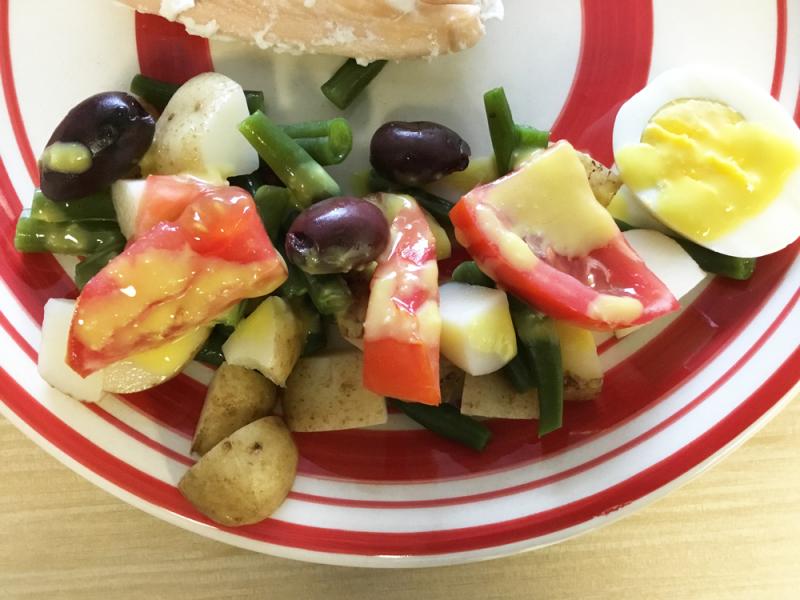 Nutrition Facts
Total Carbohydrates : 20 g
Ingredients
2 cup potatoes, diced
2 cup fresh green beans, cut into bite-sized pieces
2 tablespoon black olives, pitted
1 medium tomato, cut into slices
4 eggs, hard-boiled and cut in half (optional)
2 tablespoon oil, such as olive or canola
2 tablespoon lemon juice
1 tablespoon prepared mustard
1 clove garlic, minced
Preparation
Wash hands with soap and water.
Gently rub produce under cool running water.
Add potatoes and green beans to boiling water for 10 minutes or until tender. Remove from water and add vegetables to a bowl of ice to stop the cooking process. Drain water from vegetables.
Divide potatoes and green beans between four plates. Top evenly with olives, tomato slices, and hardboiled eggs, if using.
Make Lemon-Mustard Dressing by adding oil, lemon juice, mustard, and minced garlic to a small blender or food processor. You can also use a wire whisk to mix the dressing.
Process or whisk dressing until smooth. Divide evenly over salads.
Note
- Waxy, red-skinned potatoes work well in this recipe, but any potato is fine. - Make it a meal with canned salmon or tuna on top.