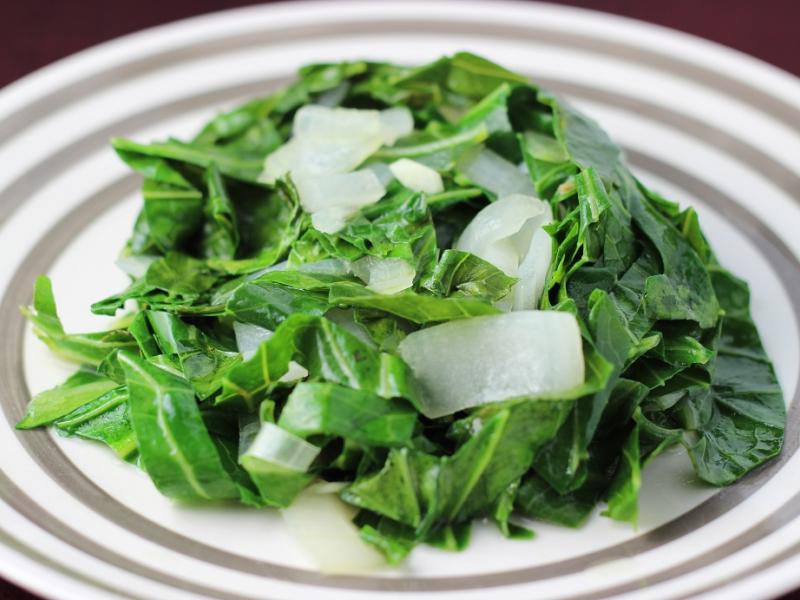 Nutrition Facts
Total Carbohydrates : 21 g
Ingredients
3 lbs. (~3 bunches) fresh greens (collard, turnip, or kale)
2 tablespoon vegetable oil
3 cloves garlic, chopped
2 medium onions, chopped
2 cup chicken broth
1/2 tablespoon red pepper flakes (optional)
salt and pepper, to taste
Preparation
Wash hands with soap and water.
Gently rub greens and other produce under cool running water.
Large leaf stems taste bitter. Remove large center leaf stems by folding each leaf in half lengthwise, and then cut along stem. Discard stems.
Roll individual leaves of greens and cut the roll diagonally to form strips of greens.
Place oil in large skillet or stock pot and sauté garlic and onion.
Add greens and 1 cup of broth to skillet. Cover and let greens cook down.
Add pepper flakes and 1/2 to 1 cup chicken broth and continue to cook until greens are tender, several hours. Add water if needed during cooking.
Season to taste with salt and black pepper.