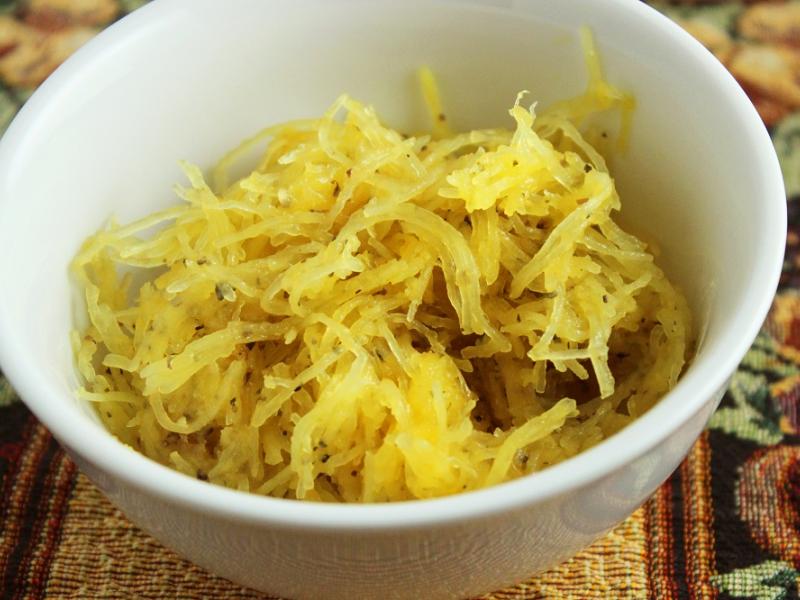 Nutrition Facts
Total Carbohydrates : 4 g
Ingredients
1 medium spaghetti squash (about 3 pounds)
1 tablespoon olive oil
1/2 teaspoon dried basil
1/2 teaspoon dried oregano
1/2 teaspoon garlic powder
1/4 teaspoon salt
1/4 teaspoon black pepper
Preparation
Preheat oven to 375 degrees F.
Wash hands with soap and water.
Wash outside of squash and pat dry with towel. Cut squash in half using Chef knife from top to bottom; be careful!
Scoop out seeds and stringy part attached to them with a large spoon and discard. Avoid removing the flesh of the squash.
Place squash halves, face-down, in a baking dish. Add a small amount of water to cover the bottom of the dish.
Bake squash for 45-60 minutes or until tender.
Rake the flesh of the cooked squash with a fork into strands. Add to a medium-sized bowl.
Toss cooked squash with olive oil, herbs, and spices. Serve hot.
Note
You can use this recipe instead of pasta with your favorite tomato sauce for a tasty meal!