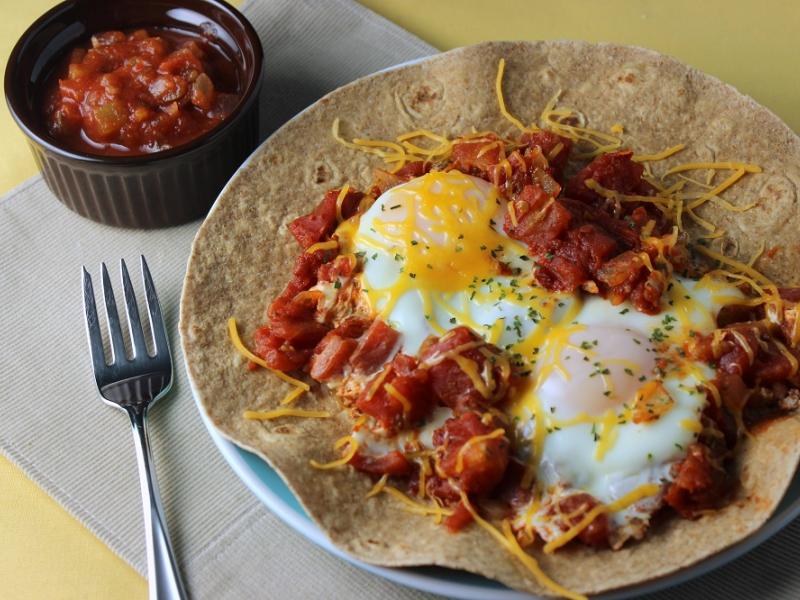 Nutrition Facts
Total Carbohydrates : 26 g
Ingredients
1 tablespoon oil
1/2 cup onion, chopped
1 can (10 oz.) tomatoes and green chile peppers, drained
1/2 teaspoon salt
1/4 teaspoon chili powder
1/4 teaspoon garlic powder
4 eggs
2 6-inch tortillas
1/4 cup grated Monterey Jack cheese
Hot pepper sauce or salsa, to taste (optional)
Preparation
Wash hands with soap and water.
Gently rub produce under cool running water.
Heat oil in 10 inch skillet over medium heat.
Add chopped onions to skillet and cook until tender.
Add drained tomatoes and green chile peppers, salt, chili powder and garlic powder to onion.
Simmer until slightly thickened.
Break an egg into a small dish.
Carefully slide egg onto hot mixture.
Repeat with remaining eggs.
Cover and cook over low heat 5 minutes or until egg whites and yolks are firm. Internal temperature of eggs should reach 160 degrees F.
Wrap tortillas in microwave-safe plastic wrap and microwave on high for 10-20 seconds.
To serve, place 2 eggs and half of tomato mixture on each tortilla.
Sprinkle with cheese and hot pepper sauce or salsa.
Note
To reduce sodium (salt), swap canned tomatoes with green chilies for 3/4 cup diced fresh tomatoes and 1/4 cup diced green peppers.