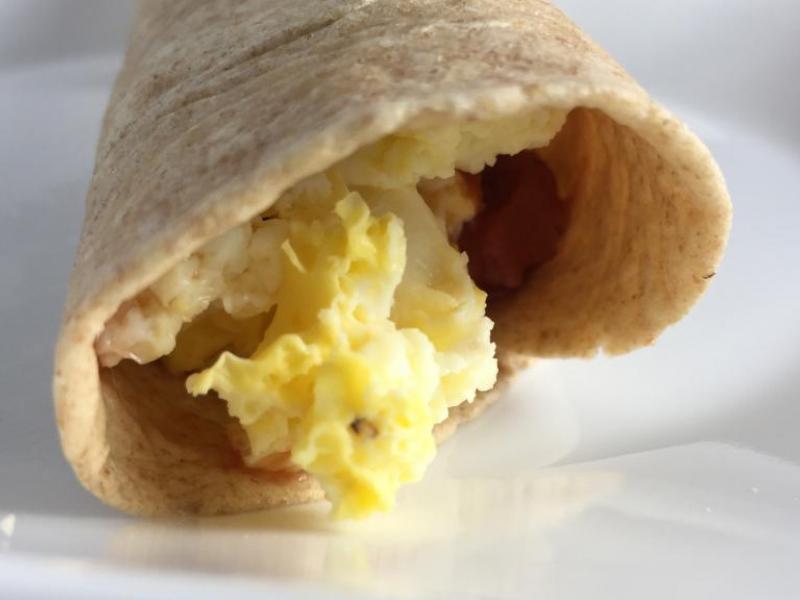 Nutrition Facts
Total Carbohydrates : 29 g
Ingredients
4 eggs
1/4 cup low-fat milk
1/8 teaspoon pepper
2 whole wheat tortilla
4 tablespoon salsa
4 tablespoon black olives, sliced
Preparation
Spray microwave safe dish with nonstick cooking spray.
Wash hands with soap and water.
Crack eggs and place into a mixing bowl.
Add milk and pepper to eggs and stir well with wire whisk or fork.
Pour mixture into microwave safe dish, cover, and microwave on high for 4 minutes. Cook eggs until internal temperature reaches 160 degrees F. Eggs should not be runny.
Carefully remove eggs from microwave using potholders.
Remove cover and use a fork to break apart eggs into bite sized pieces.
Place 1 tortilla on a plate.
Add 1/2 of egg mixture to middle of tortilla and top with 2 Tablespoons of salsa and 2 tablespoons of sliced black olives.
Repeat previous 2 steps with second tortilla.
Note
Nutrition Facts may vary depending on your choice of tortillas and salsa. If you need to lower your salt (sodium) intake, look for lower sodium choices.