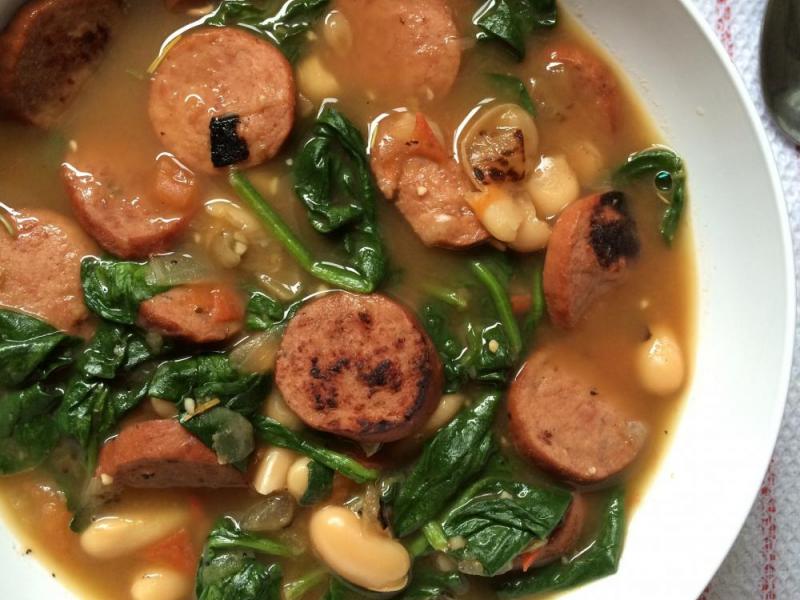 Nutrition Facts
Total Carbohydrates : 26 g
Ingredients
12 ounces turkey or chicken sausage, sliced into ¼" rounds
1 tablespoon olive oil
1 medium onion, diced
2 cup no-salt-added chicken broth
3 garlic cloves, minced, or 1 1/2 teaspoons garlic powder
2 cans (14-15 ounces) reduced-sodium cannellini beans
4 medium Roma tomatoes, diced (about 1 cup)
1/2 teaspoon dried oregano
1 teaspoon dried rosemary
10 ounces package fresh spinach leaves
Salt and pepper, to taste
Preparation
Wash hands with soap and water.
Gently rub produce under cold running water.
Heat olive oil in a large pot over medium-high heat. Add sausage and cook until lightly browned.
Add onion and sauté until softened, about 3 minutes.
Pour in chicken broth and using a wooden spoon, scrape brown bits off bottom of pan. Stir in garlic, beans, and tomatoes. Bring to a boil, then reduce heat to a simmer.
Add oregano, rosemary, and spinach. Cook just until spinach leaves are wilted.
Season to taste and serve.
Note
- Recipe makes 8 one-cup servings - Try using different flavor varieties of sausage - Great Northern or navy beans can be substituted for cannellini beans - Recipe contributed by University of Illinois Extension Nutrition and Wellness Team