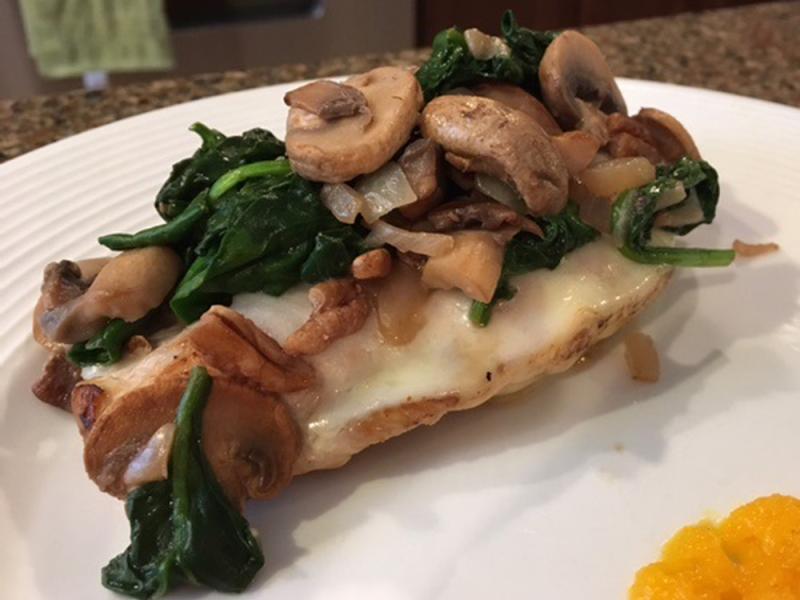 Ingredients
4 teaspoon olive oil, divided
8 ounces mushrooms, sliced
1/2 large onion, chopped
2 tablespoon pecans, chopped
3 cup fresh baby spinach
4 boneless, skinless chicken breasts (4 ounces each)
1/4 teaspoon black pepper
1/2 teaspoon garlic powder
2 slices reduced-fat provolone or mozzarella cheese, halved
Preparation
Wash hands with soap and water.
In a large skillet, heat 2 teaspoons olive oil over medium heat.
Gently rub produce under cold running water.
Add mushrooms, onions, and pecans. Sauté until vegetables are tender and pecans are toasted.
Add spinach and cook until wilted.
Remove spinach mixture from skillet and cover to keep warm. In the same skillet, heat additional 2 teaspoons olive oil over medium-high heat.
Rub chicken with pepper and garlic powder and add to skillet.
Cook chicken breasts for 10 minutes. Turn each breast over and cook an additional 10 minutes until internal temperature read with a thermometer is at least 165°F.
Top with cheese. Cover skillet with lid and cook until cheese is melted.
Top chicken breasts with spinach mixture.
Note
Recipe contributed by Jenna Smith, University of Illinois Extension Nutrition and Wellness Educator.