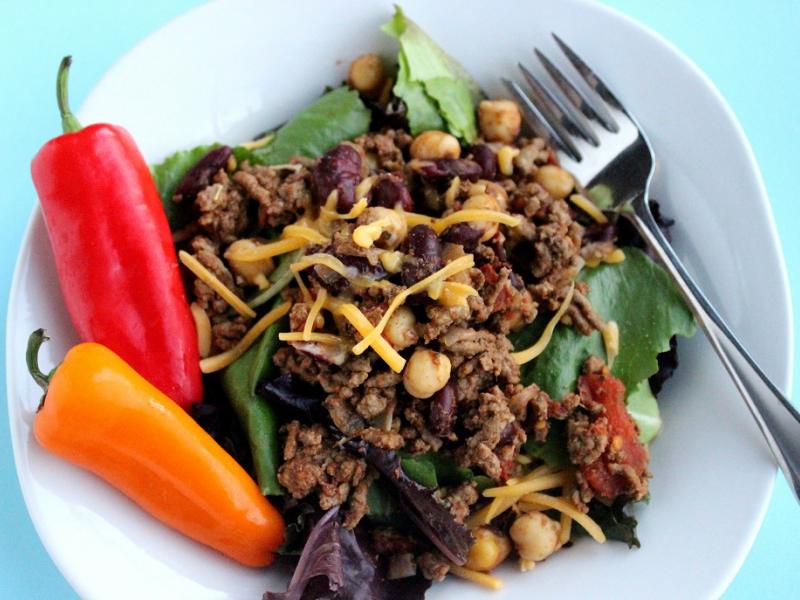 Nutrition Facts
Total Carbohydrates : 30 g
Ingredients
1 lb. ground beef, lean
1/2 cup onion, chopped
1 tablespoon chili powder
2 teaspoon dry oregano
1/2 teaspoon cumin
1 cup canned kidney beans, drained
1 can (15 ounces) chickpeas (garbanzo beans), drained
1 tomato, diced
2 cup lettuce, shredded or broken into bite sized pieces
1/2 cup cheddar cheese, low-fat, shredded
4 tablespoon ranch dressing, low-fat
Preparation
Wash hands with soap and water.
Gently rub produce under cool running water.
Cook ground beef and onions in large skillet until brown. Internal temperature of ground beef should reach 160 degrees F on food thermometer. Drain off fat.
Stir chili powder, oregano, and cumin into beef mixture and cook for 1 minute.
Add beans, chickpeas, and tomatoes; mix gently to combine.
Combine lettuce and cheese in large serving bowl.
Portion lettuce and cheese onto 4 plates.
Add 1 cup of beef mixture on top of each lettuce and cheese plate.
Top each plate with 1 Tbsp. ranch dressing.
Note
If you do not have kidney beans, black beans work as a great replacement!