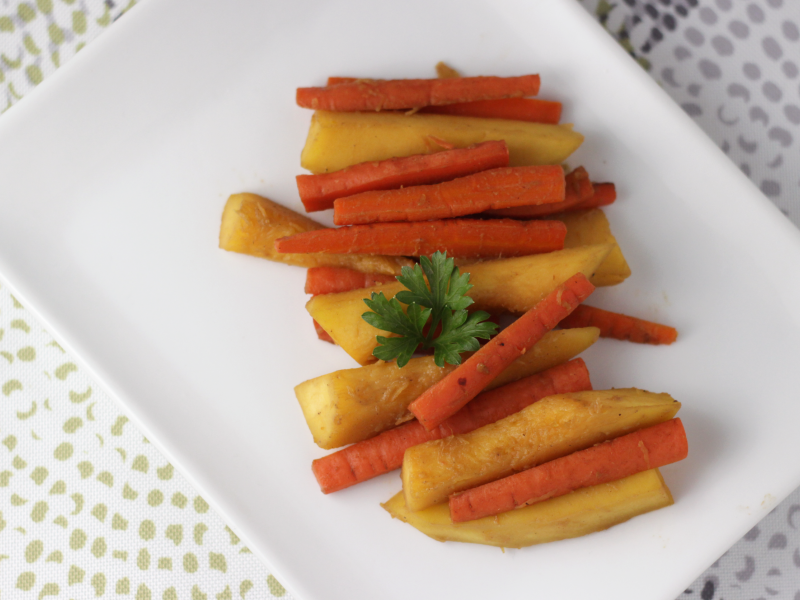 Nutrition Facts
Total Carbohydrates : 12 g
Ingredients
½ small butternut or acorn squash
3 carrots
¼ cup vegetable or chicken broth, low sodium
1 teaspoon vinegar
1 teaspoon brown sugar
1 ½ teaspoon Dijon or spicy mustard
¼ teaspoon salt
1/8 teaspoon black pepper
Preparation
Wash hands with soap and water.
Gently rub squash and carrots under cool running water.
To make the squash easier to cut, make 4-5 cuts through the skin with a sharp knife. Microwave squash for 3-5 minutes to soften skin. Let sit until cooled, about 2 minutes.
While squash softens and rests, peel and cut carrots into 2-inch sticks.
Slice squash in half, lengthwise, and scoop out seeds. Cut squash into 2-inch sticks and remove the peel.
Combine carrots and ¼ cup broth in saucepan. Cover and cook over medium heat, about 5-10 minutes.
Add squash and cook for 5-10 additional minutes, until vegetables are tender. If needed, add more broth to avoid burning vegetables.
Stir vinegar, brown sugar, mustard, salt, and pepper.
Cook for a few more minutes on medium heat until most of liquid is absorbed.
Note
Adapted from recipe Spicy Carrots and Squash from MyPlate.gov.