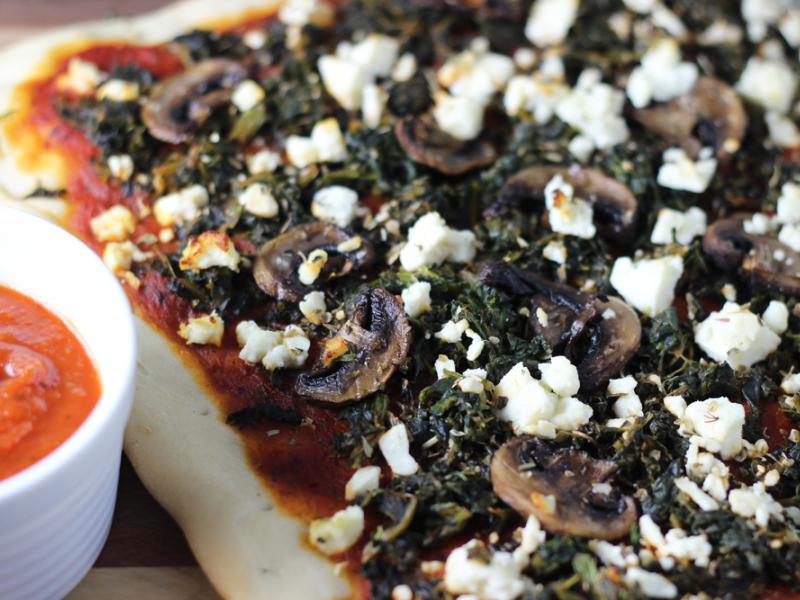 Nutrition Facts
Total Carbohydrates : 35 g
Ingredients
1 teaspoon rapid rise or instant yeast
1/2 cup warm water
1/4 teaspoon salt
1 teaspoon vegetable oil
1 cup flour (plus additional flour up to 1/2 cup if dough is too sticky)
1 cup pizza sauce or spaghetti sauce
8 ounces fresh mushrooms (or: 8 oz. can sliced mushrooms, drained)
1/2 to 3/4 of 10 ounce package frozen spinach, thawed
1/2 cup feta cheese (or: Parmesan or mozzarella cheese)
1 tablespoon Italian seasoning (or: ½ Tablespoon dried oregano and ½ Tablespoon dried basil)
Preparation
Preheat oven to 400 degrees F.
Wash hands with soap and water.
Mix yeast, warm water, salt, and vegetable oil in a medium bowl. Add flour until it makes a stiff dough (about 1 cup).
Knead dough with clean hands until it stretches easily without making a hole. If dough is too sticky, add 2 tablespoons flour at a time. This may take some time.
Spray a cookie sheet or baking pan with nonstick cooking spray. Spread dough on pan to 1/8 to 1/4-inch thickness. Set aside and let dough rise while preparing mushrooms.
Slice mushrooms. Spray small skillet with nonstick cooking spray. Sauté mushrooms over medium heat until tender. Skip step if using canned mushrooms.
Squeeze thawed frozen spinach to remove excess water.
Poke dough with a fork. Spread out pizza or spaghetti sauce onto dough. Add toppings, cheese, and seasoning.
Cook for 20-25 minutes or until dough is cooked through and lightly brown with melted cheese on top.
Note
Pizza Crust recipe adapted from "Homemade Pizza Crust" found at What's Cooking? USDA Mixing Bowl One serving is 1/4 of pizza