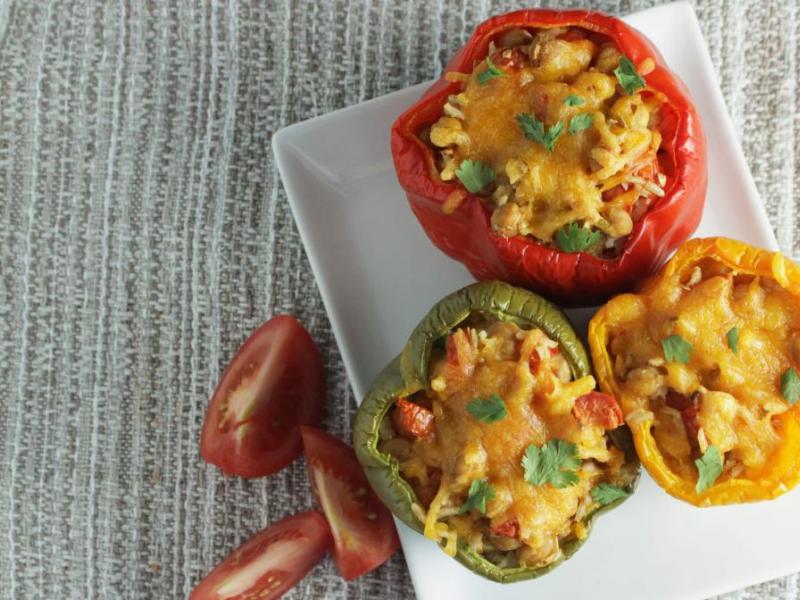 Nutrition Facts
Total carbohydrate : 34 g
Ingredients
1/2 cup bulgur, rinsed
4 bell peppers (green, red, yellow, or orange)
1/2 cup onion, chopped
1/2 can garbanzo beans (chickpeas), drained and rinsed
1 cup reduced fat shredded cheese, divided
2 medium tomatoes, finely chopped
1 can (4 ounces) chopped green chilies, drained
1 garlic clove, minced (or ½ teaspoon garlic powder)
1/2 teaspoon chili powder
4 Tablespoons fresh cilantro (or 4 teaspoons dried cilantro) (optional)
1/8 teaspoon or pinch of black pepper
Preparation
Preheat oven to 400 degrees F.
Wash hands with soap and water.
Add 1 cup water to a medium saucepan and bring to a boil. Add bulgur to pan. Reduce heat and cover. Simmer for 10-12 minutes or until liquid is fully absorbed. Remove from heat.
Gently rub produce under cold running water.
Cut tops off peppers and spoon out seeds. Set aside.
Spray a small skillet with nonstick cooking spray. Cook chopped onions until soft, about 5 to 10 minutes, in skillet over medium heat.
Mix garbanzo beans, ½ cup cheese, tomatoes, cooked onion, green chilies, garlic, chili powder, cilantro, salt, and pepper in a medium mixing bowl. Add cooked bulgur and mix gently to combine.
Spoon mixture evenly into peppers.
Add peppers to a baking dish. Bake for 40 minutes. Top with remaining cheese and bake for an additional 10-15 minutes.