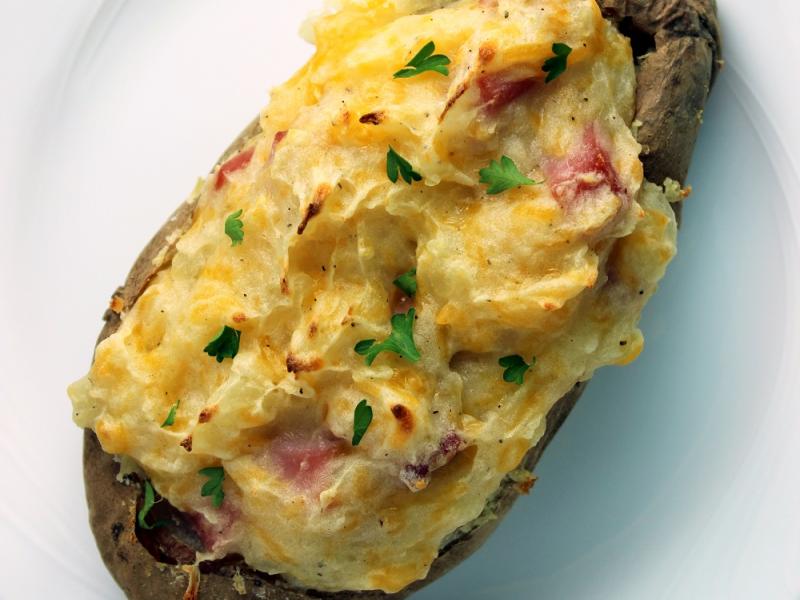 Nutrition Facts
Total Carbohydrates : 39 g
Ingredients
6 medium baking potatoes
1 cup nonfat milk
1/8 teaspoon pepper
1 cup low-fat cheddar cheese, shredded
1 1/2 cup diced lean ham, other cooked meat, or cooked vegetables (leftovers are ok)
Preparation
Preheat oven to 425 degrees F.
Wash hands with soap and water.
Gently rub potatoes under cool running water and pat dry. Prick the skins with fork.
Bake potatoes for 55 to 60 minutes or until fork-tender OR in the microwave oven for 18-20 minutes, allow 5 minutes standing time after microwaving.
When done, cut a slice off the top of each potato and scoop out centers into a bowl.
Add milk, pepper, and cheese to bowl of potatoes. Beat until light and fluffy with hand or stand mixer or wire whisk. Fold meat into mixture. Put mixture back into potatoes.
Reduce oven temperature to 350 degrees F.
Place potatoes on baking pan. Bake for 30 minutes or until heated through.
To heat in a microwave, place potatoes in microwave-safe dish and microwave for 9 to 10 minutes or until heated through.