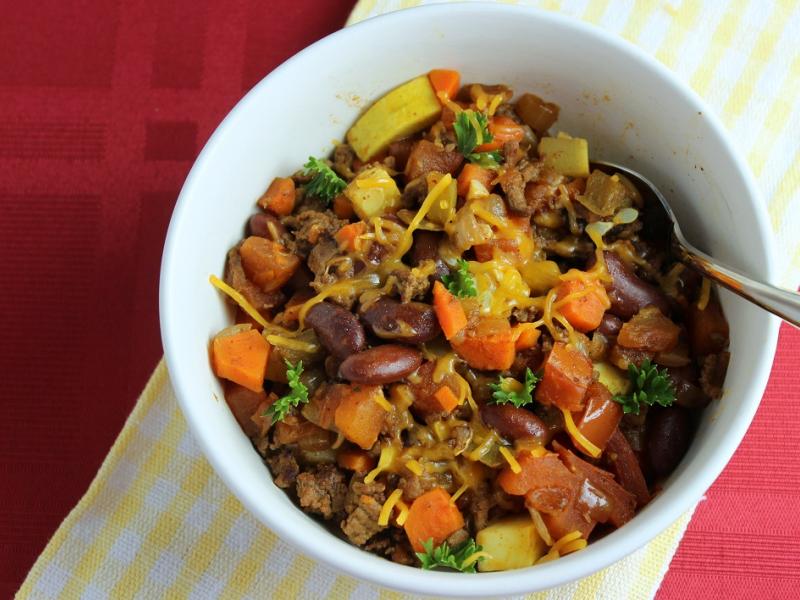 Nutrition Facts
Total Carbohydrates : 16 g
Ingredients
3/4 lb. lean ground beef or turkey
1 cup onion, chopped
1 cup carrots, diced
3/4 cup green bell pepper, chopped
2 garlic cloves, minced (or 1/2 tsp. garlic powder)
3 1/2 cup fresh tomatoes, chopped
1 can (15 ounces) kidney beans, drained and rinsed
2 cup water
1 1/2 tablespoon chili powder
3/4 teaspoon dried oregano
2 cup yellow squash or zucchini, diced
Preparation
Wash hands with soap and water.
Gently rub vegetable under cool running water.
Cook beef or turkey in large pot over medium heat until meat is no longer pink ( or until internal temperature reaches 165 degrees F for beef, and 160 degrees F for turkey) and drain.
Add onions, carrots, green bell pepper, and garlic.
Cover and cook over low heat until onion is softened, about 8 minutes.
Stir in tomatoes, beans, water, chili powder, and oregano.
Cook uncovered until chili comes to a boil.
Reduce heat and simmer, uncovered, about 20 minutes.
Add squash and simmer, about 10 minutes longer.
Note
Nutrition Facts were calculated using lean ground beef and zucchini.