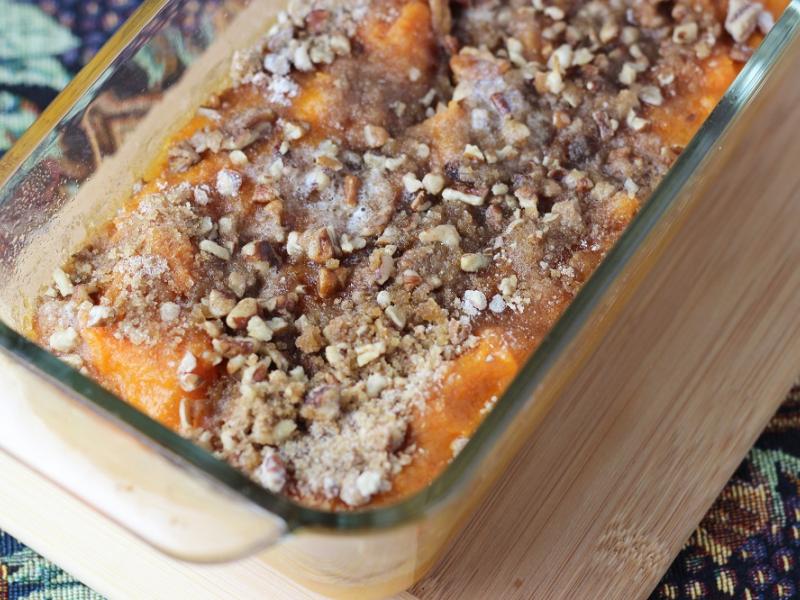 Servings per Recipe
12.00
Nutrition Facts
Total Carbohydrates : 29 g
Ingredients
6 medium sweet potatoes
1/2 cup sugar
2 eggs
1 teaspoon vanilla extract
1/3 cup nonfat milk
1/2 cup butter, softened
1/3 cup firmly packed brown sugar
1/3 cup pecans, chopped (optional)
2 tablespoon all-purpose flour
2 tablespoon butter
Preparation
Wash hands with soap and water.
Gently rub sweet potatoes under cool running water.
Cook sweet potatoes in boiling water 45 minutes to 1 hour or until tender.
Preheat oven to 350 degrees F.
Wash hands with soap and water.
Let cool to touch, then peel and mash.
Combine sweet potatoes, sugar, eggs, vanilla, milk and 1/2 cup butter.
Beat at medium speed with electric mixer until smooth.
Spoon into lightly greased 12x8x2 inch casserole dish.
In a separate bowl, combine brown sugar, pecans, flour and 2 tablespoons butter.
Sprinkle mixture over casserole.
Bake for 30 minutes.