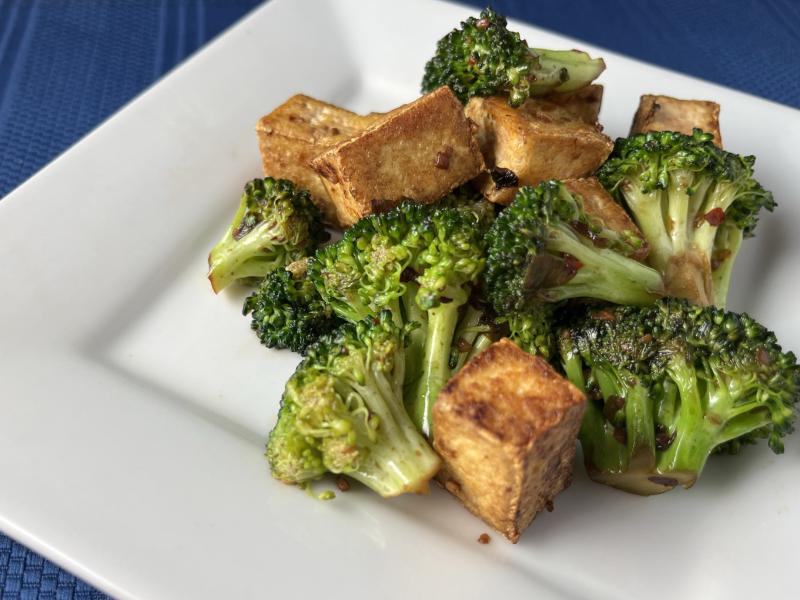 Nutrition Facts
Total Carbohydrates : 8 g
Ingredients
1 pound firm tofu
4 teaspoons vegetable oil
2 cloves garlic, peeled and minced
2 scallions, green and whites portions chopped
1 head broccoli, broken into florets, stems chopped
¼ cup water
1 tablespoon low-sodium soy sauce
½ teaspoon crushed red pepper flakes
1 tablespoon chopped fresh cilantro (or basil leaf)
Preparation
Put the tofu on a cutting board and cut into 1-inch cubes. Press tofu.
Place a skillet over medium heat and when hot, add 2 teaspoons of oil. Add the tofu, cook until golden, about 3 minutes per side. Remove the tofu to a plate and set aside.
Reheat the skillet and when it is hot, add remaining 2 teaspoons oil. Add garlic and scallions and cook just until golden, about 2 minutes. Add the broccoli, soy sauce, and water and raise the heat to high. Cook until the broccoli is tender, about 4 minut
Sprinkle with red pepper flakes and cilantro.
Serve with a side of brown rice.