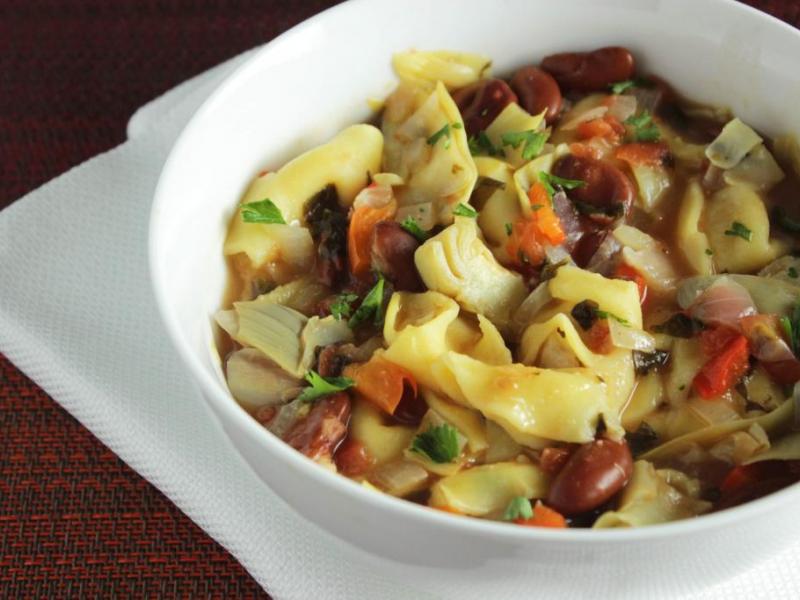 Nutrition Facts
Total Carbohydrates : 44 g
Ingredients
1 teaspoon olive oil
1 large white onion, chopped (makes about 2 cups)
1 small red bell pepper, chopped
3 cloves garlic, minced
1 teaspoon Italian seasoning
2/3 cup water
2 cup fresh spinach, chopped
1 can (14.5 ounces) kidney beans, drained and rinsed
1 can (14.5 ounces) reduced sodium chicken or vegetable broth
1 can (14.5 ounces) diced tomatoes
1 can (14.5 ounces) quartered artichoke hearts packed in water
9 ounces refrigerated cheese tortellini
Preparation
Wash hands with soap and water.
Gently rub produce under cool running water.
Heat the oil in a soup pot over medium heat.
Add onions, bell peppers, garlic, and Italian seasoning to pot.
Sauté, stirring occasionally, until the ingredients are tender (about 5 minutes).
Add water, spinach, beans, broth, tomatoes, and artichokes to the pot.
Bring mixture to low boil. Lower heat and simmer for 2 minutes.
Add the tortellini to the pot and cook until heated, about 7 minutes.
Note
Recipe makes about 6 cups of soup.