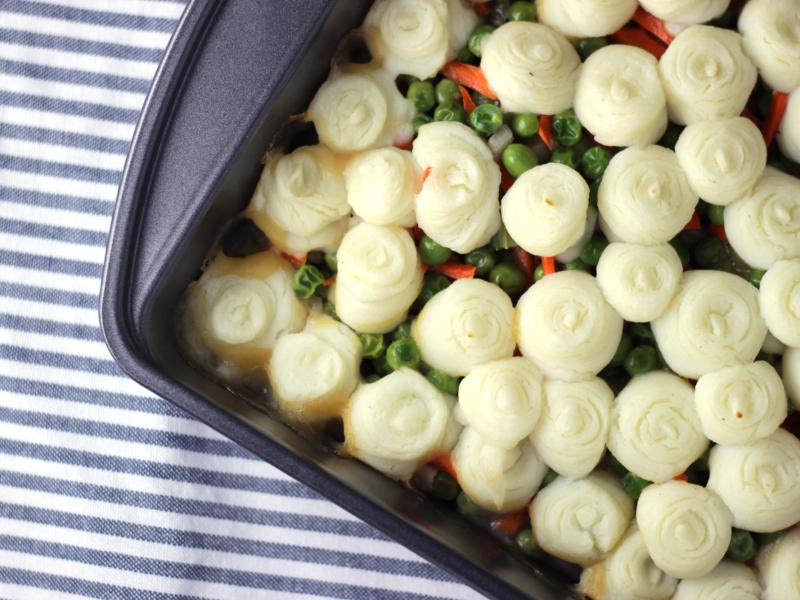 Nutrition Facts
Total Carbohydrates : 15 g
Ingredients
1 1/2 cup cooked turkey, chopped
1/4 cup celery, diced
2 tablespoon onion, minced
3/4 cup carrots, cooked and sliced
1 1/2 cup frozen peas, defrosted
1 cup prepared low sodium turkey or chicken gravy
1 cup mashed potatoes, prepared
Preparation
Wash hands with soap and water.
Gently rub produce under cold running water before preparing ingredients. Scrub carrots with a clean vegetable brush or towel under running water.
Preheat oven to 425 degrees F.
Spray pie pan or shallow baking dish (8" x 8") with nonstick cooking spray. Place turkey in bottom of pan or dish.
Mix prepared celery, onions, carrots and peas in a medium bowl. Spread vegetables on top of turkey.
Pour gravy on top of vegetables and turkey. Spoon mashed potatoes around edge of dish.
Bake for 20 minutes or until internal temperature reaches 165 degrees F on food thermometer.
Note
This is a great recipe for a leftover turkey roast. You can also use a rotisserie chicken, or ground turkey, chicken or beef.
If cooking carrots from raw, increase total cook time to 30 minutes.