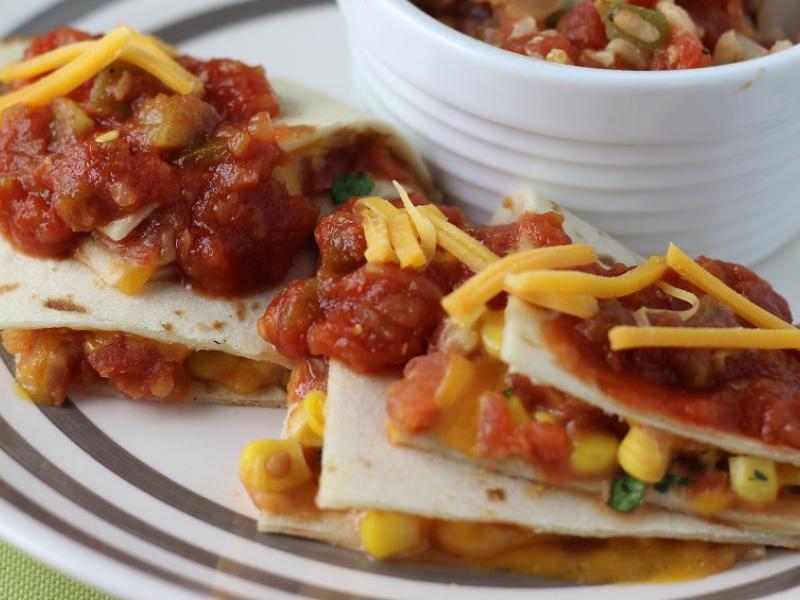 Nutrition Facts
Total Carbohydrates : 44 g
Ingredients
1 can (7 ounces) whole kernel corn, drained, or 3/4 cup fresh corn, cooked
1 can (10 ounces) diced tomatoes with green chilies
1 tablespoon fresh cilantro or parsley, chopped
1 cup fat-free refried beans
16 6-inch flour tortillas
1 cup reduced-fat cheese, shredded
1/2 cup nonfat sour cream (optional)
1/2 cup salsa (optional)
Preparation
Wash hands with soap and water.
Gently rub produce under cold running water.
In a medium bowl, combine corn, tomatoes, and cilantro (or parsley). Mix well.
Spread 2 tablespoons of refried beans on 8 tortillas.
On remaining 8 tortillas, evenly spread 2 Tablespoons of cheese and 2 Tablespoons of corn mixture.
Cover each with 1 bean covered tortilla, bean side down to make a quesadilla.
In a large nonstick skillet over medium heat, heat 1 quesadilla for 1 to 2 minutes on each side or until cheese is melted and tortillas are toasted.
Remove quesadilla from skillet; repeat with remaining quesadillas.
To serve, cut each quesadilla into 4 wedges.
If desired, serve with non-fat sour cream and salsa.
Note
1. You can 1 tsp. dried parsley or cilantro in place of fresh in this recipe!