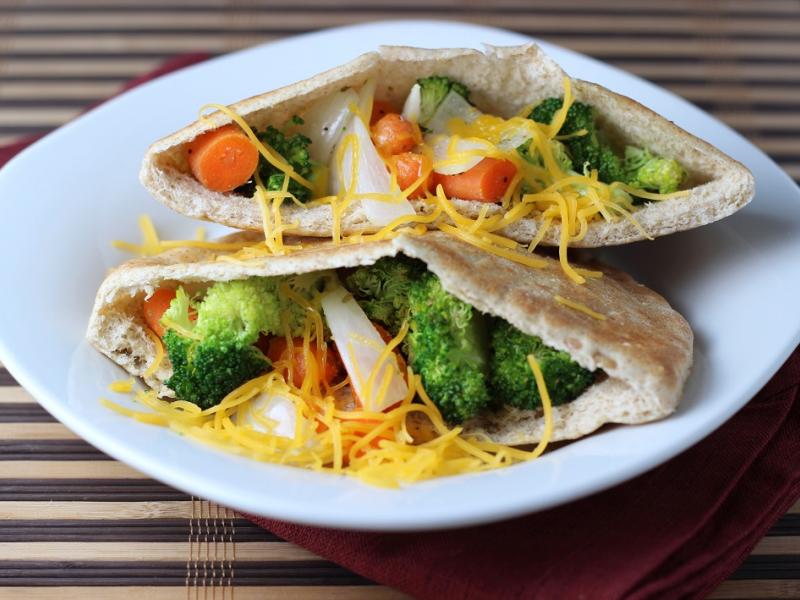 Servings per Recipe
12.00
Nutrition Facts
Total Carbohydrates : 38 g
Ingredients
2 medium onions, sliced
4 medium carrots, cut into bite-sized pieces
2 cup broccoli, cut into bite-sized pieces
2 tablespoon vegetable oil
1/2 teaspoon oregano
1/4 teaspoon black pepper
1/4 teaspoon garlic powder
12 pitas (6-inch, whole wheat)
12 ounces low-fat Cheddar cheese, shredded
Preparation
Place prepared vegetables into bowl.
Heat oil in skillet. In a small bowl, combine oregano, pepper, garlic powder, and onion powder.
Add the spices to the heated oil and then add vegetable mixture to the pan.
Stir vegetables with a wooden spoon and sauté about 5 minutes.
When the vegetables are slightly tender remove from heat.
Spoon vegetable mixture into the pita.
Top the hot vegetables in pita with 1 ounce of shredded cheese.
Note
Substitute green pepper, mushrooms or zucchini in place of listed vegetables.