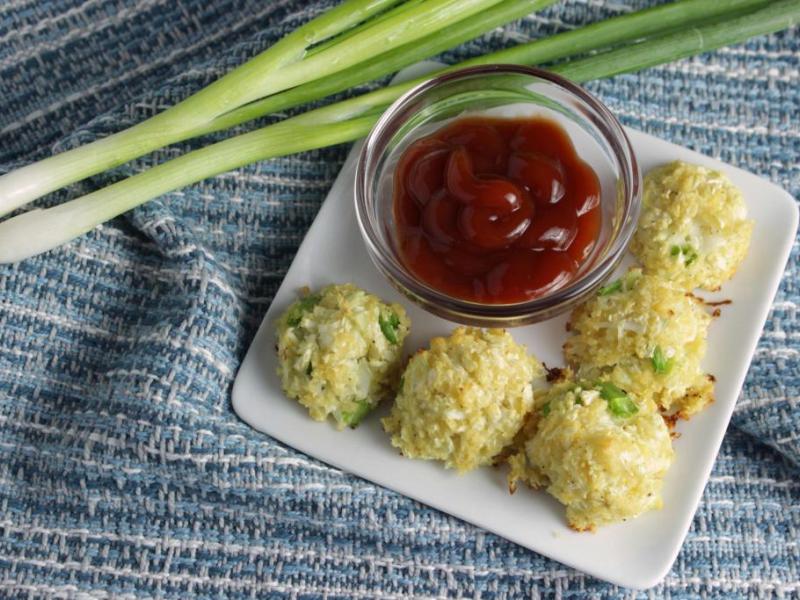 Nutrition Facts
Total Carbohydrates : 7 g
Ingredients
1/2 head cauliflower (makes about 2 cups riced cauliflower)
1/4 cup green onions, minced
1 egg
1/2 cup bread crumbs or crumbled corn flakes
1/4 cup reduced-fat cheddar cheese, shredded
1/4 teaspoon garlic powder
1/2 teaspoon salt
1/8 teaspoon black pepper
Preparation
Preheat oven to 400 degrees F.
Wash hands with soap and water.
Gently rub produce under cool running water.
Grate cauliflower or process in a food processor until it is in small pieces, similar to the size of rice.
Mix riced cauliflower and remaining ingredients together in a medium sized mixing bowl.
Spray a cookie sheet /jelly roll pan with nonstick cooking spray.
Form cauliflower mixture into small balls or logs and place on cookie sheet.
Cook for 20 minutes or until heated through and browned slightly on the outside.
Note
Nutrition Facts calculated using panko bread crumbs. Each serving provides 5 veggie tots.