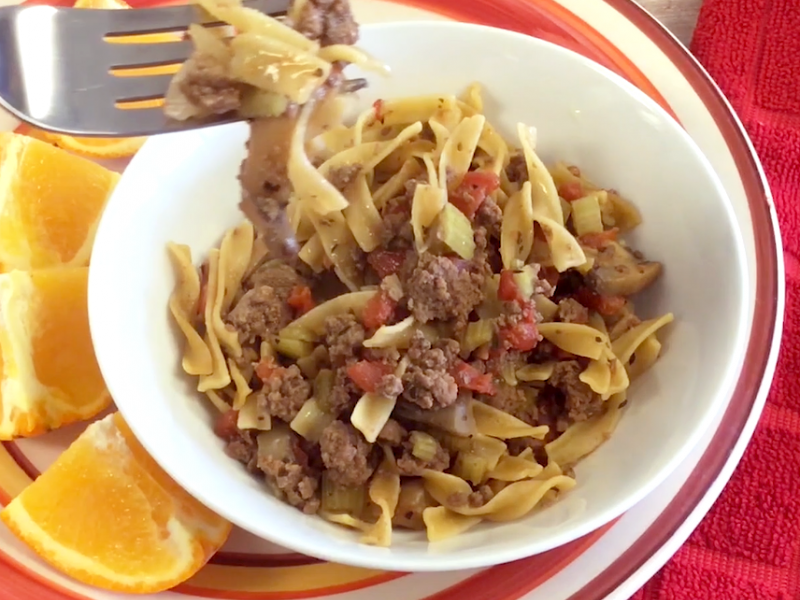 Nutrition Facts
Total carbohydrate : 35 g
Ingredients
1 pound (16 ounces) ground venison
1 Tablespoon oil (see tip 1)
1/2 cup onion, diced
1/2 cup celery, diced
1/2 cup bell pepper (any color), diced
1 can (8 ounces) sliced mushrooms, drained
1 can (15 ounces) no salt added diced tomatoes (do not drain)
2 cups reduced sodium beef broth
4 cups dry egg noodles
1 Tablespoon Italian seasoning (or ½ Tablespoon dried basil and ½ Tablespoon dried oregano)
1 teaspoon garlic powder
1/2 teaspoon salt (see tip 2)
1/4 teaspoon black pepper
Preparation
Wash hands with soap and water.
Add ground venison and oil to a 12-inch skillet over medium heat (Tip 1). Cook, breaking meat into small pieces, until meat is browned.
Add onion, celery, and bell pepper. Stir to mix in. Cover with a lid and cook for 5 minutes, stirring occasionally,
Stir in mushrooms, tomatoes with their juices, broth, Italian seasoning, garlic powder, salt (Tip 2), and black pepper. Cover with lid and cook 5 minutes, stirring occasionally.
Stir in egg noodles. Cover with lid and cook 10 minutes, until noodles are tender and most of broth is absorbed.
Refrigerate leftovers within 2 hours. Eat leftovers within 4 days.
Note
Tip 1: If venison is ground with added fat, do not use oil in recipe. If a lot of fat is released from the cooked meat, drain the fat, and return meat to pan.

Tip 2: If using diced tomatoes with salt added, do not add salt in Step 4. Wait until the end of cooking to add salt based on taste. 

Venison Noodle Skillet recipe developed and shared by Illinois Deer Donation Program.

Recipe can be prepared with ground beef or ground turkey if venison is not available.