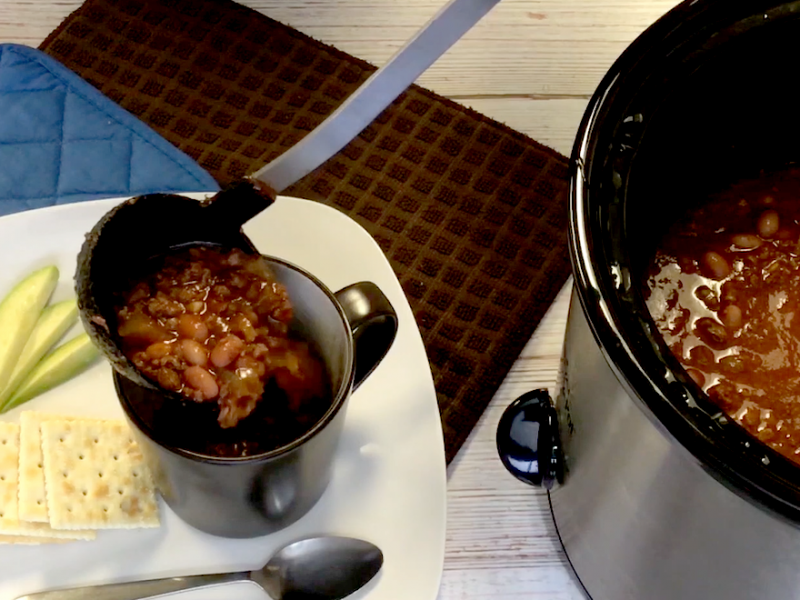 Nutrition Facts
Total carbohydrate : 23 g
Ingredients
4 ounces dry small red beans (about ½ cup dry beans) or 1 can (15 ounces) red beans
1 pound (16 ounces) ground venison
1 Tablespoon oil
4 cups low-sodium tomato or vegetable juice
1 cup onion, diced (about one medium onion)
2 cloves garlic, minced (or 1 teaspoon garlic powder)
1 Tablespoon chili powder
1 Tablespoon cumin
¼ teaspoon salt
¼ teaspoon ground black pepper
Preparation
Wash hands with soap and water.
The night before making chili, prepare dry red beans. Measure out beans and remove any wrinkled or soft beans. Add beans to a medium bowl and cover with water by 2 inches. Cover container and refrigerate for at least 8 hours.
When ready to make chili, wash hands with soap and water.
Add ground venison and oil to a medium skillet or pot. Cook over medium heat. Break meat into small pieces until browned.
While meat cooks, chop and measure onion and garlic. Drain extra water from beans. Set aside until meat is done cooking.
Add cooked meat, beans (or one 15-oz can red beans, rinsed and drained), tomato juice, onion, garlic, and spices to a 3- or 4-quart slow cooker. Stir to mix.
Add slow cooker lid. Cook on LOW for 6-8 hours or on HI for 3-4 hours.
Note
Do not use dry red kidney beans or dry white kidney (cannellini) beans in slow cooker recipes without precooking. Raw kidney beans contain high levels of a toxin that can cause intestinal distress, vomiting, and/or diarrhea if not cooked before adding to slow cooker recipes.
If venison is ground with added fat, do not use oil in recipe. If a lot of fat is released from the cooked meat, drain the fat and return meat to pan.
Enjoy chili with diced green onion, shredded cheese, sliced avocado, tortilla chips, soup crackers, or other toppings.
Venison Slow Cooker Chili recipe developed and shared by Illinois Deer Donation Program.
Recipe can be prepared with ground beef or ground turkey if venison is not available.