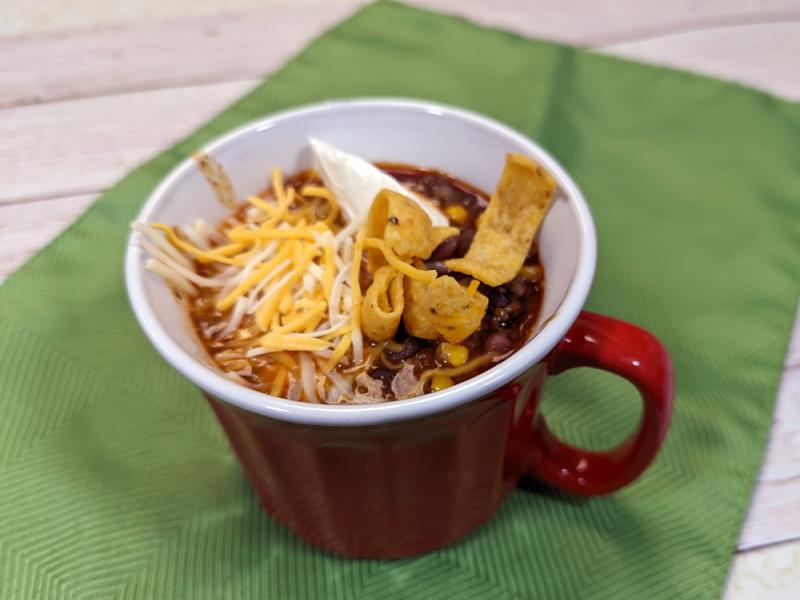 Nutrition Facts
Total carbohydrate : 35 g
Ingredients
1 pound ground venison (ground beef, turkey, or chicken can be used if venison is not available)
1 Tablespoon oil (Tip 1)
1/2 medium onion, chopped, or 1 Tablespoon dried, minced onion
2 cloves garlic, minced, or 1 teaspoon garlic powder
1 (1-ounce) ranch dressing packet
1 (1-ounce) taco seasoning packet
4-ounces dry small red beans, or approximately ½ cup of dry beans
4-ounces dry black beans, or approximately ½ cup of dry beans
1 (15-ounce) can diced tomatoes
1 (10-ounce) can diced tomato with green chiles
1 (15-ounce) can reduced-sodium beef broth, or 1 ½ cups water
1 can (15-ounce) whole kernel corn, drained and rinsed
Preparation
Wash hands with soap and water.
Prepare dry beans the night before making soup. Measure out beans and remove any wrinkled or soft beans. To a medium bowl, add beans and cover with water by 2 inches. Cover container and refrigerate for at least 8 hours.
Add ground venison, onion, and 1 tablespoon oil (Tip 1) to a 6-quart pot over medium heat. Cook, breaking meat into small pieces, until meat is browned and onions are translucent.
Once meat is browned, add garlic, ranch dressing packet, and taco seasoning packet. Cook for 1 minute, stirring frequently.
Drain extra water from soaked beans. Add beans, diced tomatoes and their juices, diced tomatoes with green chilis, and beef broth to pot; stir to combine.
Bring to a boil. Reduce heat to medium-low, cover with lid, and cook for 2 hours, stirring occasionally, until beans are tender (Tip 2).
In the last 15-20 minutes of cooking time, stir in canned corn. Add lid to pot and continue cooking until corn is heated through.
Serve soup with tortilla chips, cheese, sour cream, green onion, avocado, lime wedges, or your other favorite toppings.
Refrigerate leftover soup in a food-safe container within 2 hours. Eat within 4 days or freeze for longer storage.
Note
Tip 1: If venison is ground with added fat, do not use oil in recipe. If a lot of fat is released from the cooked meat, drain the fat and return meat to pan.
Tip 2: In place of dry beans, use one (15-ounce) can of red beans and one (15-ounce can of black beans. Rinse and drain both cans before adding to soup in Step 6. Reduce cooking time to 30-60 minutes.
Reduce sodium: Most of the sodium in this soup comes from the ranch dressing and taco seasoning packets. If sodium is a concern, use only half of each packet to reduce sodium to 850mg per serving. Using water instead of beef broth will reduce the sodium a bit more.
Venison Taco Soup recipe developed and shared by Illinois Deer Donation Program.

This recipes makes a big batch of soup. Freeze the extra and have a quick lunch or dinner for busy days.