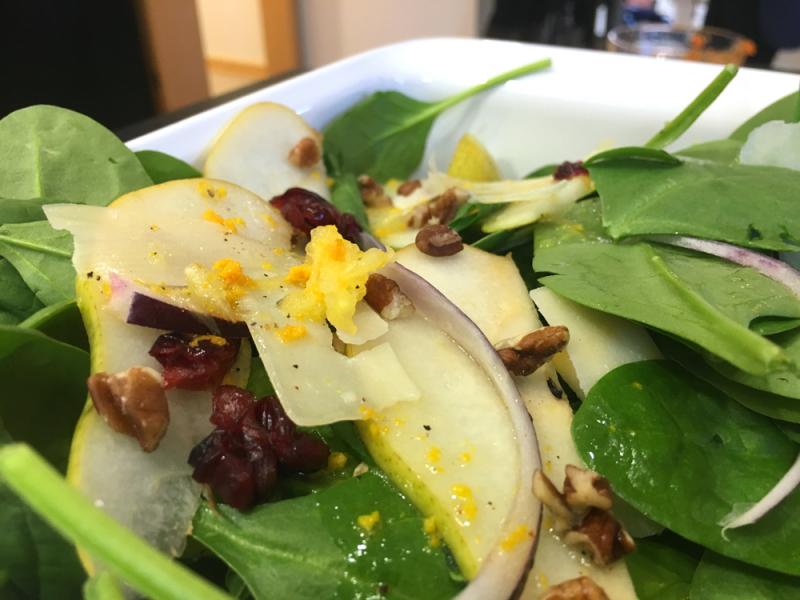 Nutrition Facts
Total Carbohydrates : 19 g
Ingredients
4 cup fresh spinach leaves
1 medium ripe pear, thinly sliced
1/4 cup dried cranberries
Quarter of a red onion, thinly sliced
2 tablespoon chopped pecans or other nuts (optional)
1/4 cup parmesan cheese, shaved
1/4 cup oil
1/4 cup orange juice
1 teaspoon orange zest (optional)
1 teaspoon sugar or honey
1/4 teaspoon ground black pepper
Preparation
Wash hands with soap and water.
Gently rub produce under cold running water.
Add spinach leaves to a serving bowl.
Top with pear slices, dried cranberries, onion slices, nuts (if using), and cheese.
Make dressing: add oil, orange juice, orange zest (if using), sugar or honey, and black pepper to a small bowl.
Whisk dressing with a fork to combine.
Pour dressing over salad and serve.
Note
- This recipe contributed by Caitlin Mellendorf, nutrition and wellness educator with University of Illinois Extension. - Nutrition Facts on the label assessed without nuts. - Nutrition facts (per serving, with nuts): 250 calories, 18g fat (3g saturated fat), 125mg sodium, 20g carbohydrates, 3g fiber, 4g protein - This is an easy recipe to change for personal taste. For example, use mixed spring greens instead of spinach, or apple slices instead of pears. - Make this a main dish by adding cooked chicken or garbanzo beans and a whole-grain roll or crackers on the side.