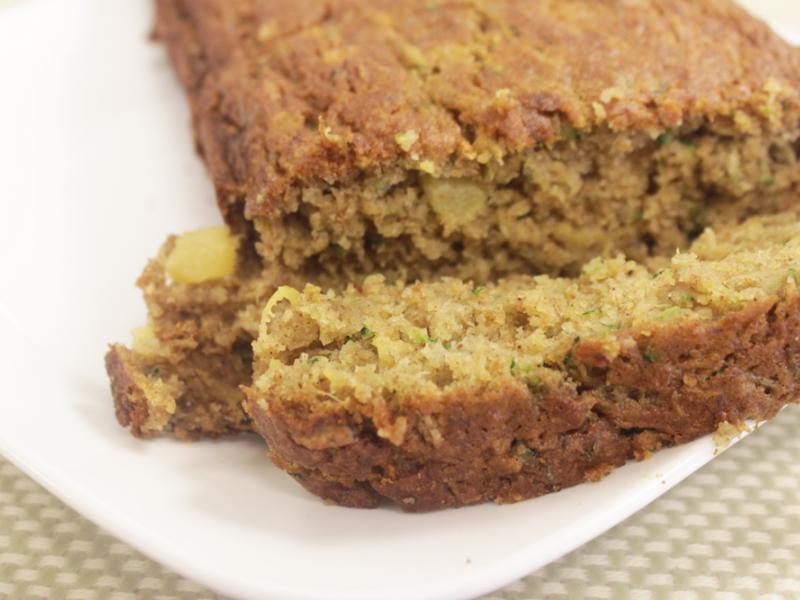 Servings per Recipe
24.00
Nutrition Facts
Total Carbohydrates : 24 g
Ingredients
3 eggs
1/2 cup vegetable oil
1/2 cup applesauce (unsweetened preferred)
1 cup sugar
2 teaspoon vanilla extract
2 medium to large zucchini squash, to make 2 cups shredded
1 can (14-15 ounces) crushed pineapple, drained
1 and 1/2 cup whole wheat flour
1 and 1/2 cup all purpose flour
2 teaspoon baking soda
1 teaspoon salt
1/4 teaspoon baking powder
1 and 1/2 teaspoon ground cinnamon
3/4 teaspoon ground nutmeg
Preparation
Preheat oven to 350 degrees F.
Wash hands with soap and water.
Wash zucchini and slice off both ends. Cut zucchini into large chunks and grate. Measure shredded zucchini by packing firmly into a measuring cup.
In a large mixing bowl. combine eggs, oil, applesauce, sugar, vanilla, shredded zucchini, and pineapple.
In a separate bowl, stir together flours, baking soda, salt, baking powder, cinnamon, and nutmeg.
Slowly add dry ingredients to the zucchini mixture and mix well. Pour batter into 2 greased loaf pans.
Bake for about one hour or until toothpick inserted in middle comes out clean.
Cool down. Remove and place on wire rack to cool completely.