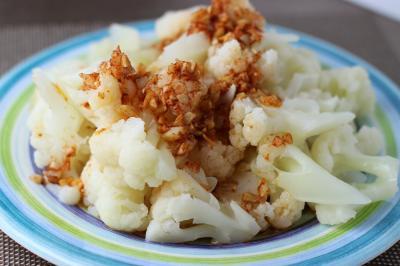 To many kids, cauliflower looks like 'white broccoli' when it shows up at the dinner table. While both of these vegetables are in the same family of plants, cauliflower can truly shine on its own. Plus, cauliflower can be found in purple and orange, too! Cauliflower is also having a trendy moment, and is used in many recipes in place of potatoes or other starchier items (think mashed 'potatoes', cauliflower crust for pizza, and more).
Cauliflower Nutrition: Like many vegetables, cauliflower is fat and saturated fat free, low in sodium, high in vitamin C, and a good source of folate (one of the B vitamins).
Cauliflower Selection: Look for cauliflower that is white and compact, without browning, and has bright green leaves.
Cauliflower Storage: Store cauliflower in the refrigerator in a plastic bag for up to 5 days.
Cauliflower Preparation: Typically, only the white head (curd) is eaten. Cut off and discard the green leaves and white stem, and cut the curd into bite-sized pieces to enjoy cooked or raw, or slice into large pieces to roast.
Garlic Cauliflower
Servings: 4
Ingredients:
- 1 cauliflower head, cut and separated into florets
- 3 Tbsp. oil
- 3 cloves garlic, minced
- 1 tsp. paprika
- 1 Tbsp. vinegar
- Salt and pepper, to taste
Instructions:
Cook cauliflower in water in a medium saucepan until tender, about 15 minutes.
Drain and place in a serving bowl.
Heat oil in a small skillet over low to medium heat.
Sauté chopped garlic for 1 minute.
Remove garlic from heat and add paprika and vinegar to skillet, stirring to mix well.
Pour oil and vinegar mixture cooked cauliflower.
Add salt and pepper to taste.
Nutrition Facts (per serving): 110 calories, 10 g fat, 15 mg sodium (sodium amount will increase with added salt), 4 g total carbohydrates, 1 g fiber
Link to Recipe Online: https://go.illinois.edu/garlic_cauliflower
Many other recipes can be found on our website, Let's Eat Health for Illinois! Easy Family-Friendly Recipes for Any Budget, at https://go.illinois.edu/inep_recipes
February 28, 2017