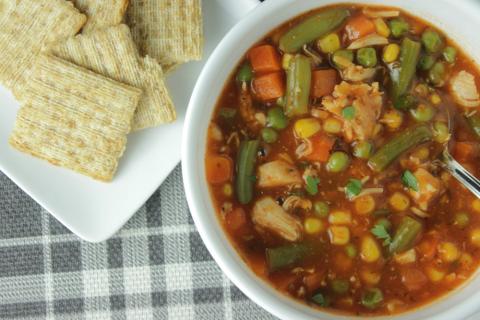 What's for dinner tonight? Sometimes, that's not an easy question to answer.  Our latest blog series focuses on meals to make based on what's already in your kitchen at home. This week, the recipe is perfect for a cold winter night: soup!
Weeknight Pantry Soup
Ingredients:
Protein:

1 can (14-15 ounce) beans, drained and rinsed, plus one of the following:

1 can (14-15 ounce) of beans, drained and rinsed;
12 oz. can of chicken, drained;
½ pound ground beef or turkey, cooked and drained; or
1/2 pound cooked and chopped chicken or turkey
Vegetables:

Choose one:

2 cups chopped fresh vegetables  (such as carrots, green beans, bell peppers, zucchini, mushrooms, or onions),
1 can (14-15 ounces) canned vegetables, drained and rinsed, or
½ bag (16 ounces) frozen vegetables, thawed in refrigerator
Broth:

4 cups chicken, vegetable, or beef broth, and
8 ounces tomato sauce
Spices and Seasonings:

1 teaspoon garlic powder,
1 teaspoon basil,
1 teaspoon oregano, and
¼ teaspoon black pepper
Rice or Pasta:

Choose one:

1 cup dry rice, cooked according to package (makes 2-3 cups), or
1 cup dry pasta, cooked according to package (makes 2 cups)
Toppings:

Choose one:

Shredded cheese,
Whole-grain crackers, or
Green onions, diced
Ingredient tips: if possible, use low-sodium broth and whole-wheat pasta or brown rice!
Instructions:
If using fresh vegetables, spray a large pot with nonstick cooking spray. Cook on low-medium heat until vegetables are soft. If not using fresh vegetables, skip ahead to step 2.
Add protein, vegetables, broth, and spices/seasonings to a large pot. Cook on medium heat until lightly boiling.
Add cooked pasta or rice to pot. Cook until hot, around 10 minutes. 
Serve and sprinkle toppings on each bowl of soup.
February 6, 2019