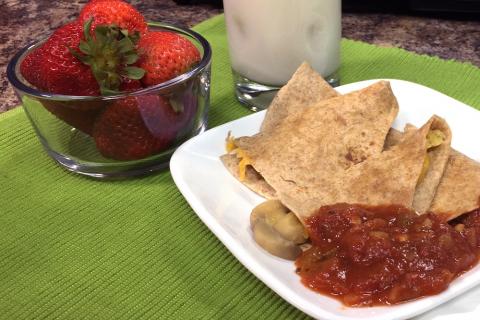 Kids can help cook this summer, and it is a great way to help them eat new or different foods! It's as easy as PLAN, COOK, and EAT.
Plan
Work together to pick out a recipe or menu item they want to make with you. Start by looking at a cookbook, a recipe box, or recipe website and pick something that looks tasty and easy! Add the ingredients to your shopping list and plan when you will make the recipe.
Cook
Prepare food and cook together. This is a great bonding experience for you and your child or grandchild! It also teaches important kitchen and safety skills.
Kids as young as two and three years old can start with simple steps, like stirring and adding ingredients with supervision. Four to six year olds can help with measuring, mixing, and reading recipes. As kids get older, they can start to take on more challenging kitchen tasks. Make sure to supervise, especially with use of knives or other sharp items and heat.
Eat
Have the family sit together for meals as often as possible. Family meals are a great way to save money and spend time together! Aim to turn off the screens (TV, phones, and tablets), too.
A fun recipe to try together is Quesadillas. Kids can help choose the fillings and add them to the tortilla! Mushrooms and cheese are popular choices!
Mushroom and Cheese Quesadillas
Serves: 4
Ingredients:
4 whole wheat tortillas
1 cup reduced fat cheddar cheese, shredded
1 cup cooked or canned mushrooms
Directions:
Preheat oven to 350 degrees F.
Spread 1/4 cup cheese and 1/4 cup mushrooms on half of one tortilla. Fold plain side over the filled side to create quesadilla. Repeat with remaining tortillas.
Spray jelly roll pan or cookie sheet with nonstick cooking spray.
Place each quesadilla onto pan. Cook for five minutes. Flip and cook other side for an additional five minutes.
Serve with salsa or guacamole.
June 5, 2018