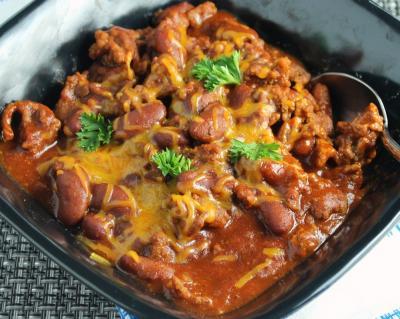 Winter in Illinois can mean spending more money at the store for fresh fruits and vegetables. One way to save the budget is to include more canned items in your diet! Canned fruits and vegetables are full of nutrition and flavor and can be used in many of your favorite dishes. You can use them year-round, too, and many of our recipes have both canned and fresh options.
- Our Favorite Ways to Include More Canned Fruits or Vegetables:
Adding Extras to Chili: include different types of beans, corn, and tomatoes to the chili base, and top with olives or diced green chilies.
Our Chili Recipes: Black Bean & Corn Chili, Quick Chili, White Chicken Chili
Bumping Up the Flavor in Soups: add an extra can of your favorite – carrots, potatoes, mushrooms, green beans, or garbanzo beans!
Our Soup Recipes: Easy Vegetable Soup, Hearty Beef Vegetable Soup
Making Salads Taste Super: try canned kidney beans, mandarin oranges, or olives on top of your favorite salad.
Our Salad Recipes: Main Dish Salad, Bean Salad with Rice
Canned vegetables and beans usually have salt (sodium) added. Look for low-sodium versions, especially if you need to limit salt intake for a health condition. Look for canned fruits that are canned in their own juices or light syrups to limit the amount of extra sugar. Drain and rinse canned fruits and vegetables under running water to decrease the sugar and salt content even more.
January 17, 2017